Plus-size models left 'sick to their stomachs' after being denied entry to club
Featured Image Credit: TikTok/@ellahalikas
Two plus size models have told how they were left feeling 'sick to their stomachs' after being denied entry to a club, claiming they were 'discriminated against' due to their body size.
Alexa Jay and Ella Halikas were hoping to party with friends at The Highlight Room in Los Angeles, California, recently, but were both turned away from the queue after the rest of their group were allowed in.
They took to TikTok to share what happened, with Ella saying: "We're feeling absolutely sick to our stomachs about what happened last night."
Alexa explained she had been invited to The Highlight Room for a friend's birthday, as part of a group of around 15 women.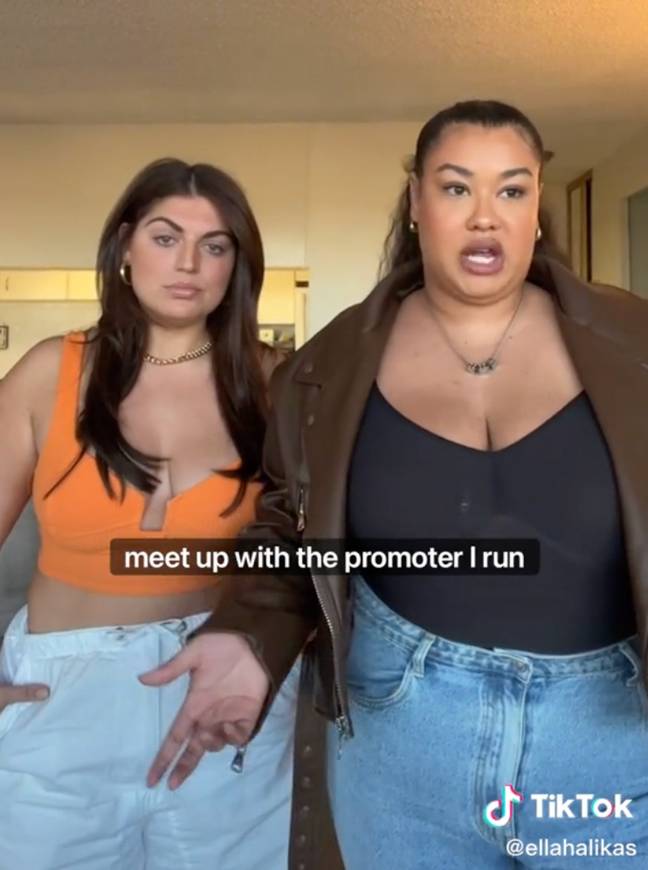 "I was definitely the biggest in the group.
"Waiting in line to meet up with the promoter, I run into Ella, was like, 'Amazing, we're gonna have so much fun up there!'
"So the promoter starts letting in the whole group of girls, and right when it gets to me at the front, the bouncer puts the rope in front, looks me up and down and says, 'Yeah, not tonight.'"
Alexa let the bouncer know that she was part of the group he had just let in, but he looked her up and down again and allegedly repeated: "Yeah, not tonight."
She continued: "At that point, it was extremely apparent what was going on, and that I was being discriminated against because of the size of my body."
Ella said she also felt 'confused' and tried to talk to the bouncer herself, only to also be told 'not tonight'.
She said: "We're tired of playing safe, and we're tired of just letting this happen and not speaking up about it.
"This has personally happened to me three other times. I know this has happened to her before, and a lot of our curve friends as well, and it is not OK.
"And we're not doing this because complaining we can't get into The Highlight Room – we don't care. It's for that girl, that person that's bigger, who does not have a voice and doesn't have a following, and doesn't have the connects or model friends."
Ella said she and Alexa understood they were 'privileged', adding: "That's not to say that this is OK."
Alexa described the incident as 'dehumanising', saying others were looking at them as if they were the 'scum of the Earth'.
"Nobody cared," she said.
Ella then fumed: "Just because you might be a little bit thicker, you can't enjoy a night out with friends? Like, give me a f**king break."
In a later update, the pair revealed they had been inundated by DMs from other women who reached out with 'similar stories of discrimination', which they found 'alarming'.
They encouraged others to stitch their own story with theirs using the hashtag #NotTonight, in a bid to bring about a real 'change'.
Tao Group Hospitality, the parent company behind The Highlight Room, confirmed it was aware of the incident and said it was in contact with Ella and Alexa.
In a statement to Tyla, the company said: "We are aware of Ella and Alexa's experience. The doorman on this particular evening worked for a third-party promotion company and we've removed this individual from the door effective immediately.
"We have made several attempts to resolve the issue directly with Ella and Alexa and even scheduled a meeting within days to address their experience which they unfortunately cancelled. Our company does not tolerate discrimination of any kind.
"We are always appreciative of feedback on our operations and continue to work on how to improve our guest experience."