Lindsay Lohan fans 'horrified' as she stars in odd advert for Pepsi
Featured Image Credit: Pepsi/YouTube
Fresh from staring in the new Christmas film The Falling for Christmas, Lindsay Lohan is now the star of Xmas Pepsi advert - but some fans are hot happy.
The Freaky Friday actor took part in the soda company's new Christmas campaign known as 'Pilk and Cookies'.
For those unaware, that is short for Pepsi and milk - which is a twist on the dirty soda - a craze currently taking over TikTok.
The somewhat disgusting sounding drink combines a traditional fizzy drink alongside either milk or cream.
In a shortened version of the commercial, Lohan is sitting on a sofa wearing a Santa dress and hat inspired by her performance in Mean Girls.
Lohan pours a can of Pepsi into a glass and then adds a bit of milk, which she describes as 'naughty'.
In the full 33-second advert, Lohan gets a surprise from Santa Claus himself, as he pours the Pepsi and Milk himself.
Tiptoeing down the stairs of a family home, Lohan is greeted by the drink sitting there with a cookie.
She sits down on the sofa and takes a sip, adding: 'That is one dirty soda, Santa'.
In a press release ahead of the advert release, Lohan said: "Partnering with Pepsi to announce Pilk and Cookies has been an incredible experience.
"As someone who loves the holiday season and embracing new traditions, I was thrilled to have a little bit of fun with Pepsi and their take on the dirty soda.
"For people learning about Pilk for the first time, I won't lie to you when I say I was a bit skeptical when I first heard of this pairing, but after my first sip I was amazed at how delicious it was, so I'm very excited for the rest of the world to try it."
Despite that, there are some fans of the Freaky Friday actor who are not happy she is in the Pepsi advert, with one even saying they are 'horrified' by the drink.
One person added: "I'd rather watch you dance in Mykonos on repeat for the rest of my life than drink this."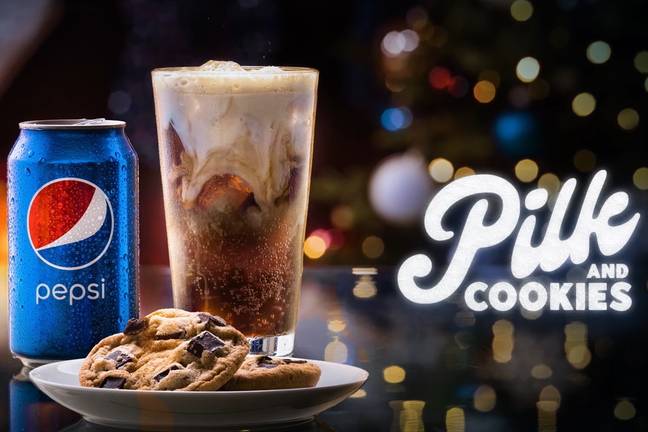 Though there were some fans heaping praise on the commercial.
Back in November, the Lindsay Lohan Fan Updates Twitter account asked when a commercial for the actor would be coming.
But when it was announced Lohan would be staring in the Pepsi ad, the account said: "Omg!! Thank you @Pepsi."