Selling Sunset Fans Defend Heather Rae Over Career History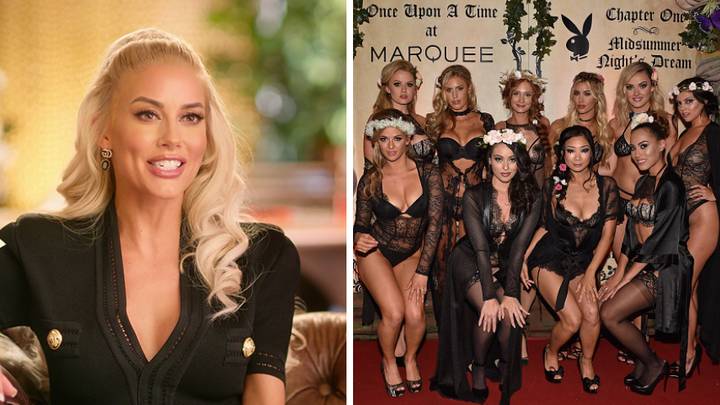 Featured Image Credit: Netflix/Getty Images
Selling Sunset fans are just realising what realtor Heather Young did for a living before joining the Oppenheim Group, and they have mixed reactions.
It turns out that Selling Sunset isn't Heather's first experience in the spotlight, and the reality star had quite a history in front of the camera before Netflix came her way.
Before she was selling multi-million dollar houses, Heather got her big break at a casting call in a world-famous mansion. Watch here:
Yes, before her estate agent days, Heather was a Playboy bunny, having posed for the magazine on a number of occasions, and even being named Playboy's 'Playmate of the Month' back in February 2010, when she was just 23 years old.
While Heather hasn't exactly been quiet about her Playboy past, and has even mentioned it once or twice on Selling Sunset, some fans were still baffled when they realised.
In fact, many fans of the series didn't even learn about Heather's Playboy history until they spotted her in a throwback episode of Hell's Kitchen.
Just found out Heather from Selling Sunset was a Playboy bunny and I only found that out because I'm binge rewatching Hell's Kitchen and just saw her dressed up at the mansion 😭

— helltopay (@helltopay_) May 31, 2022
Heather's time with Playboy has been discussed by fans of Selling Sunset across multiple Reddit threads, and while some are supportive of the realtor's career choices, others would describe themselves as concerned.
Discussing the revelation, some viewers revealed that they had known about Heather's career history for quite some time.
"She's pretty proud and open about it, I love that about Heather," commented one fan.
"I only knew because I believe she shortly mentioned it in Season 1 or 2," wrote a second.
However, some who were just learning about Heather's Playboy days were less impressed. One confused fan asked: "I'm kinda wondering how having that out there affects the relationship with Tarek's kids and Christina.
"I wonder what Christina thinks about her kids being exposed to playboy at a relatively young age (if they don't find it, their friends definitely will). No shade for having been a Bunny, you do you girl."
Hitting back at the question, another fan wrote back: "This is so judgy and saying you don't mean shade by it doesn't absolve you for the shade of the whole post.
"Posing for Playboy doesn't make her any less of a person or woman who should be shown respect. I find it empowering and think it's a great way to teach kids women can do whatever they want to do."
"I don't think it really matters much anymore," added another. "She's been forthcoming about it and admitted she wanted $$$ and fame from doing the spread, so I don't think there is any shame in that."
More recently, Heather has spoken about her decision to pose nude for Playboy, insisting that she doesn't regret it for a second.
Speaking to The Sun in November, she said: "It catapulted my career, it changed my life, it was the most defining moment in my life.
"I don't regret anything I've ever done. I'm proud of my life. Everything I've done has got me to where I am today."
You can stream all five seasons of Selling Sunset on Netflix now.