Chrissy Teigen and John Legend's surrogate Alexandra speaks out after welcoming their baby boy
The woman who carried Chrissy Teigen and John Legend's new baby has spoken out on the experience after he arrived into the world.
Teigen and Legend celebrated the arrival of their fourth child via surrogate on 18 June, and this week Teigen took to Instagram to share a heartfelt statement on their growing family.
In the post, the model explained she's wanted four children for 'as long as [she] can remember'. The couple welcomed daughter Luna, seven, and son Miles, five, but Teigen lost their third child, who they named Jack, when she had to undergo a life-saving abortion.
Following the loss, the parents underwent IVF in the hope that Teigen would be able to welcome another child, and in January she gave birth to daughter Esti Maxine Stephens.
Around the same time Teigen got pregnant with Esti, she and Legend met Alexandra, who she described as 'the most incredible, loving, compassionate surrogate' they could have imagined.
The first embryo the couple tried with Alexandra didn't survive, but she eventually became pregnant with their little boy, who was born 'just minutes before midnight' earlier this month.
Teigen expressed how grateful she was to Alexandra, writing: "We want to say thank you to this incredible gift you have given us, Alexandra. And we are so happy to tell the world he is here, with a name forever connected to you, Wren Alexander Stephens."
After Teigen shared the post, Alexandra responded with some heartfelt words of her own.
Tagging the mum, Alexandra commented: "Thank you for choosing me. For making this whole experience so wonderful. For loving me and my family whole heartedly.
"It was truly an honor bringing perfect Wren into the world with you right by my side."
Teigen made clear she and Alexandra were close throughout the pregnancy, describing how they 'ate hot pot to celebrate' the new life growing inside them and 'watched Vanderpump Rules with [their] growing bellies'.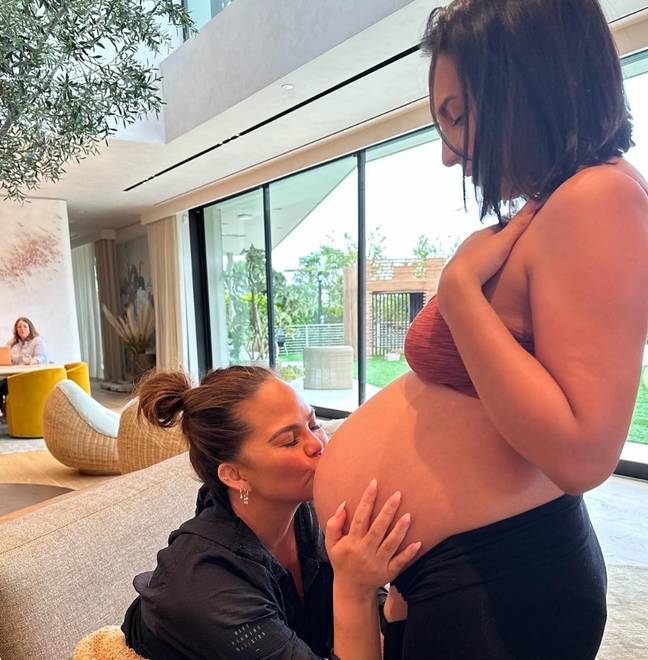 She also shared a snap of her kissing Alexandra's baby bump before she gave birth, as well as a picture of her and Legend cradling their newborn after he arrived.
Teigen's followers have been gushing over Wren after she shared snaps of the newborn, with one saying he 'looks more like John than John does', while another wrote: "Oh my good-ness that handsome boy and that hair! Congratulations!!!
"And fantastic work and love to your surrogate! What an incredible story."