Watch the clip below to see Frankie's gesture:
While Judi Love joked that the campmate looked like she might be a bit cold in that castle, it definitely mimicked what Frankie said she would do to let her fellow cast members know she was thinking of them.
Speaking on an episode of Loose Women earlier this week, host Kaye Adams asked whether viewers had spotted Frankie's secret signal to her fellow co-presenters.
Kaye asked those at home: "Who was paying close attention during I'm A Celeb this week?
"You may not have noticed this, the secret signal that Frankie said she would make to say she was thinking of us Loose ladies."
They then played the clip of the Saturdays singer wiggling her shoulders and pulling her face while sat round the campfire when Ant and Dec called out her name to reveal who was doing the trials out of the celebrities.
Kaye asked: "Did you see that little jiggle? That is it, so she was practising before she went in... That's her little signal to the Loose ladies."
As proof that this was Frankie's little wink to the Loose Women ladies, they also played a clip of her practising the shoulder wiggle when she was in isolation in Wales preparing to enter the castle.
We'll make sure to look out for Frankie's secret gestures in the upcoming episodes!
One thing viewers definitely did notice though was Frankie's shocking confession about her underwear to her fellow campmates.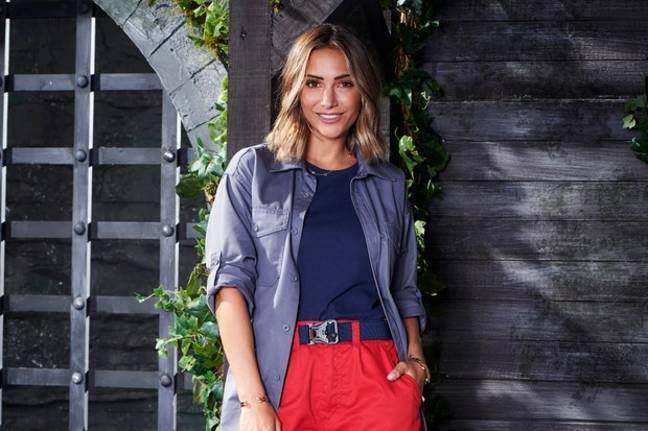 After Louise Minchin proudly announced she had washed her hair for the first time since moving into the Welsh castle, Frankie confessed: "I've still got yesterday's knickers on. Maybe I'll do a knicker change then… I've got five [pairs].
She then jokingly offered her campmates a sniff. "I've got a pair on, a dirty pair that I walked in… they smell great though guys, I sprayed them with loads of perfume. You can have a whiff whenever you want."
Viewers were living for Frankie's honesty with one Twitter user admitting to reusing the same pair of knickers just like Frankie. "Omg hilarious, Frankie so down to earth," she tweeted. "I've still got yesterday's knickers on!! [sic]".