Woman Shares 'Genius' Hold That Puts Babies To Sleep Every Time
Featured Image Credit: @beckywilko82/TikTok
TikTok has become a major source for parenting hacks and tips. For the parents struggling to help their babies drift off to sleep, a mum has shared the 'genius' hold she uses - and it works like a charm.
Mum Becky Wilkinson, who uploads to TikTok as @beckywilko82, posted a video explaining that her baby son Reuben was struggling to sleep and had been crying.
One commenter suggested the colic hold, in which the baby is placed on the arm with their tummies facing down.
Colic is when a baby cries frequently but there is no obvious cause. According to the NHS, a baby might have colic if they cry for more than three hours a day, three days a week for at least one week but are otherwise healthy.
Babies with colic may also cry more in the afternoon or evening. The baby could also have colic if their tummy rumbles or they're very gassy while crying.
Becky's baby calms down almost immediately after she uses the colic hold. In response to the comment, Becky said: "Ok so I've held him like this before not knowing what it was. An hour later he's fast asleep! #gamechanger."
Parents in the comments were beyond thankful for the video and vowed to try the colic hold themselves. Several mums also reflected on their own experiences with babies experiencing colic.
One woman shared: "Omg I had a baby with colic and reflux I feel your pain."
Another parent wrote: "My daughter was severe reflux and milk allergy omg the crying! she did a full weekend without sleep just crying it was torture!"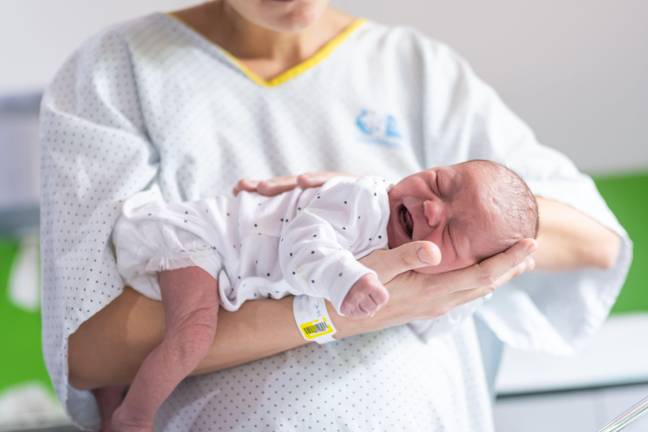 Another mum replied: "This settles my little one every time."
In response to one comment asking about babies crying throughout the night, Becky replied: "I won't put Reuben down unless he burps 3 times (it's just his thing!). Other measures we take are anti colic bottles & lots of raised front tummy time."
Another parent reflected on using the method with their children when they were infants. "So glad you've found something that works! My kids are 17 & 15 now and I did these with them," she said.
Call NHS on 111 or visit a GP if you are worried about your baby's crying, if your baby has colic and nothing seems to work or if your baby still suffers colic after four months of age.
You should visit A&E or call 999 if your baby has a weak or high-pitched cry or if their cry does not sound like their normal cry.
For more information on colic, symptoms and more things you can try to soothe your baby, visit the NHS website.