Woman Opens Up About Life With Her 100lb Leg
Featured Image Credit: Instagram/@lymph.goddess23/@lorenvieramedia
A woman has revealed what life's like living with a rare condition that means she has a leg that weighs 100lbs.
Mahogany Geter, 24, was born with lymphedema which resulted in her left leg collecting excess fluid in the body's soft tissue.
The fluid can only be eased with physiotherapy and a lymphatic drainage massage, but Geter has proudly learnt to live with it and the Knoxville, Tennessee native has gone on to have a career in modelling.
"If I'm in public some people will stop what they're doing and pray for me," Mahogany says in a new video where she explains her life managing the condition.
She was born with the condition and it affects her entire left side. However, it's her leg that is most visible and has brought about the most attention.
"How heavy is my left leg? It's about 100lbs," she says.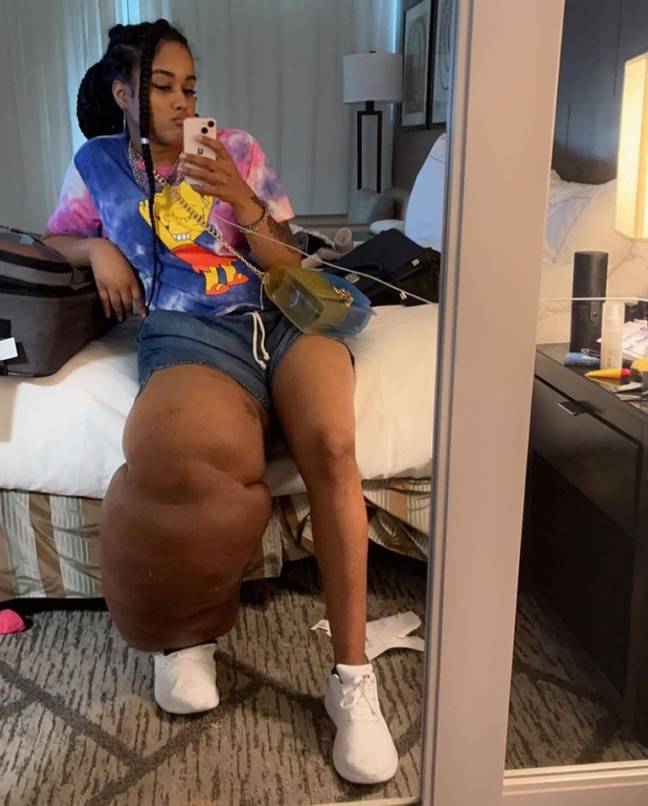 "And I'm honestly going to say that's probably not an exaggeration because before I started treatment I was, like, 300lbs
"And then as I progressed I got down to, like 226lbs."
Mahogany does find herself in pain from time to time. She can contract fibrosis, which is a thickening and scarring of the body tissue.
"Somehow that fluid change can also make your skin uncomfortable," she adds.
To stimulate the flow of the lymph fluid, Mahogany uses a pneumatic pump that inflates like a balloon.
"It's like a big stocking on your leg that has all these different air components," she explains.
Different parts will inflate and then deflate in a pattern and the process ends up sending the fluids back up through the body's system so that she can urinate it out.
Mahogany has been to a lot of different doctors over the years but no one has really able to answer how to cure her ailment. Surgery has been suggested, but she's turned down that option.
"There's cases like mine that were born with it, or might be more severe, in which the surgery has helped, but it's not all the way gone," she says.
Mahogany used to get a lot of comments when she was younger, often from adults who would make fun of her or point when she wore shorts or something else that revealed her leg.
However, her life changed when a photographer spotted her working in Walmart in 2017 and asked to take pictures of her. Now she works as a model.
"I thought it was fake I'm not going to lie," she says.
Her advice to others is to 'take their time and that they're beautiful, they've got this'.