Woman left cringing after dragonfly tattoo goes horribly wrong
From incorrect spellings and dodgy placements, to messy shading and shoddy linework - it seems it's a fairly common thing now for people to ink themselves up with a less-than-wanted piece of art that will unfortunately stay on their body forever.
However, what's less common is someone going all-in on a pretty big design with nothing but confidence only to be left in a state of deep regret after realising what a mistake they have made.
And that was exactly the case for one woman who was left well and truly 'cringing' after her dragonfly tattoo went horribly wrong.
Influencer Victoria Ashley took to TikTok to share with her followers the one tattoo she really wished wasn't forever in response to one viewer's request to see it.
She started the short clip explaining: "Since I got a bunch of requests to see the dragonfly, I will show you.
"I never do this, it's a bit embarrassing."
Victoria proceeded to make visible the area in which the tattoo was located - positioned right at the bottom of her lower-back mere centimetres away from her 'butt crack'.
She then pulled down the waistband of her jeans to show a huge black outlined dragonfly shaded with pink and blue ink before admitting: "So, here is the tattoo. Oh my god - this is so embarrassing.
"It goes into pretty much my butt crack."
Victoria then issued some words of advice to other prospective tattoo-lovers out there looking for their next inky fix.
"All I have to say is, if there's a tattoo you're wanting, really marinate on it and don't rush to get it," she warned.
"I did have a meaning at the time when I got it – it was more of a rebirth and all of that stuff.
"But now it's just a giant bug on my back that I'll have for the rest of my life unless I get laser removal, which I am thinking about."
Victoria captioned the clip: "I'm cringing so hard lol," adding the hashtags #badtattoo and #everybodymakesmistakes to really hammer the point home.
The TikTok has since clocked up thousands of views with many rushing to the comments section to share their reaction to the dodgy ink job.
Many were mostly shocked by the sheer size of the bug plastered across Victoria's lower-back.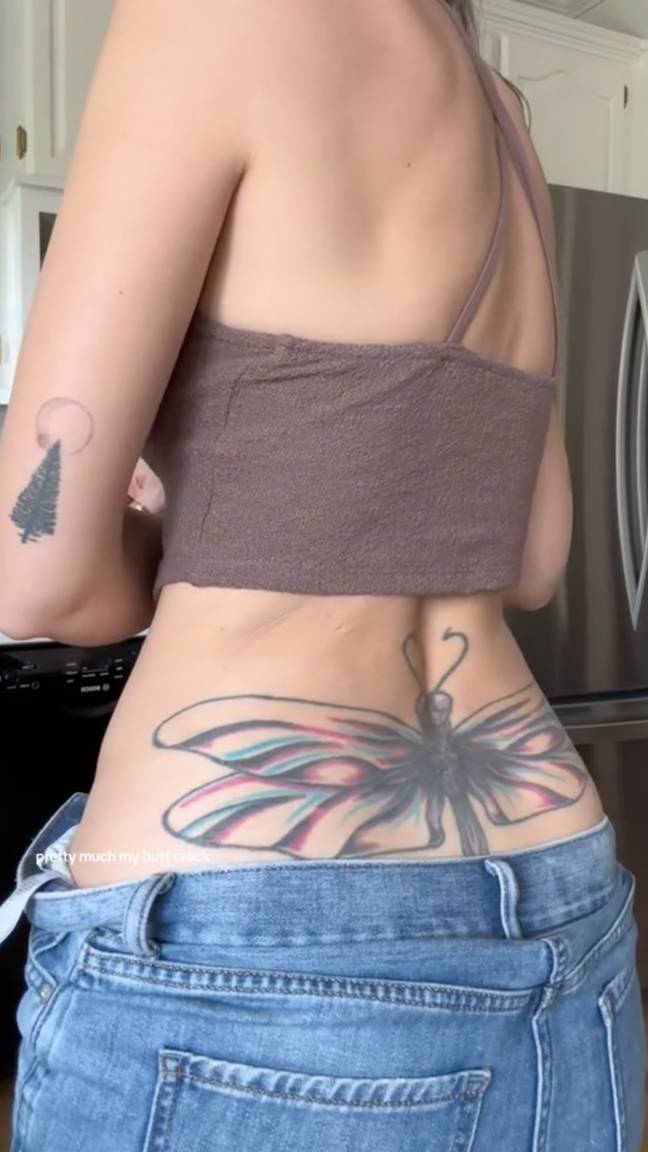 One TikTok user wrote: "Noooo I thought it was gonna be small," while a second posted: "Girl it's so cute but I get what you mean about the size."
"It looks acc pretty nice but the size..." echoed a third.
Others, however, were actually on-board with the scale of the ink despite Victoria's own less-than-satisfied reaction.
One admitted: "Honestly I kind of love how big it is!!"
"That's cuteeee, the sizing and colours are so unique," offered another.
A third chimed in: "I think it's soooo cute!!! I think the size is actually really cute and makes it more unique."