Mum defends baby's 'extravagant' name as she's bombarded with nasty comments
Featured Image Credit: SWNS
Appropriate baby names are a topic of high contention at the moment, after Molly Mae Hague and Tommy Fury announced the birth of their baby girl Bambi.
The Disney-inspired name didn't exactly go down well among fans, with some have complained that Molly and Tommy never stopped to consider what it will be like for their daughter to grow up with a name like that.
And others even pointed out that Molly might have forgotten one key detail in the classic Bambi film.
If you weren't into the name that Molly and Tommy chose, try to hold your tongue while I tell you about mum Jade and the choice of name for her little girl.
Jade and Joshua Jeanes have been fending off online trolls and judgemental mums ever since they welcomed their baby girl.
The couple struggled for seven years to have a baby, because Jade has a bicornuate uterus - a malformation which increases the risk of miscarriage.
So when their daughter finally arrived, they decided to go with an 'extravagant' name.
Originally, the couple had considered the name 'Belle' after Jade's favourite film Beauty and the Beast.
In the end, though, they decided that 'Disney' was better suited to their daughter.
The mum remembers that even the midwives at St Michael's Hospital in Bristol thought the name Disney was odd.
But Jade was devastated to be mocked by other mums when she posted her daughter's name on a Facebook page for parents - but says she has no regrets over the moniker.
"Friends and family love the name, and I do too. I just really like the name Disney," she said.
"Disney is quite a personality. Her name suits her and her personality loads.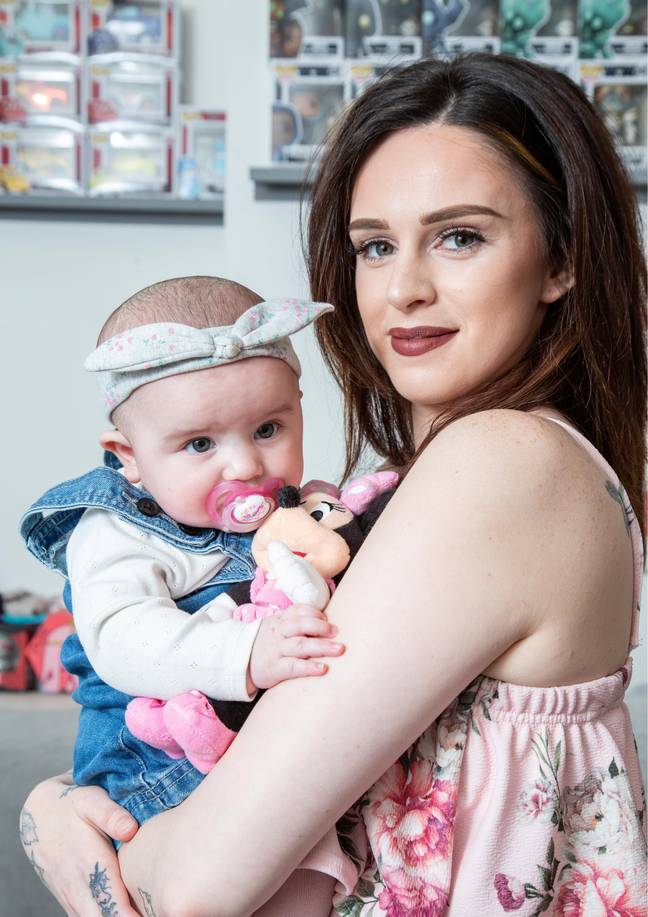 It's no one's business what we decided to call her, and I think that's the way our generation is going to be honest.
"The hope is that by the time she goes to school with other children her age, her name will just blend in.
"Other kids will have unconventional names, we hope. We don't think she'll have problems at school because of that."
Talking through her thought process for the name Disney, Jade recalled: "I was just looking through the Disney princesses for ideas.
"And I saw Belle and thought that would be nice. It's extravagant, and it's different.
"After I thought Belle was a good name, I thought: 'why not Disney?'
"Then it turned out that my midwife's surname was Disney so we had a laugh about that, joking we'd name the baby after her."
Friends and Family loved the name, but when Jade posted about it on Facebook group, Mums the Word, she was devastated by the trolling that ensued.
Jade said her post got a lot of negative reaction but she couldn't understand why.
"It's just a name," she mused, "there are ordinary names that people give that I don't like, but I don't tell them that they shouldn't give those names.
"It was more of a fun post that I assumed people would be okay with. In the end, people just either hate it or love it.
"My husband's siblings have young children and they like Disney films so she'll be brought up in a big, happy Disney family."
When Disney gets a little bit older, Jade and Joshua plan on taking her on her first trip... And you'll never guess where!
"We really can't wait to take her to Disney World but since Josh and I both are afraid of flying, we thought we'd start with taking her to France first," said the mum.
"We'll wait until she turns two, but that can't come around quickly enough."
Jade's love for Disney is nearly rivalled by her love for video games.
"I did think about naming her after a video game character," she confessed.
"I don't think I've come across any names from video games that were too 'out there'. I'd love a son called Sonic."