Angry mum destroys her own gender reveal party because she didn't want another girl
An angry mum destroys her own gender reveal party because she didn't want another girl.
Gender reveal parties can be a divisive topic at the best of times, with plenty of expectant parents sometimes facing criticism for the extravagant way that they choose to announce their news, like one couple who dyed a waterfall blue.
And it seems like this mum had a similar reaction after storming out upon finding out that she was having a girl.
The TikTok clip featured a text overlay that reads: "POV: When you destroy your own gender reveal because you didn't want another girl."
As soon as the baby's gender is revealed, the mother pulls down the party bunting, tears the sash off her body and leaves the party as her guests stand around in shock.
The camera also shows tables and chairs overturned, balloons on the floor, and what look to be water bottles scattered across the ground.
One of the attendees can be heard saying in the background: "She's really mad, I didn't think she was for real."
The user who uploaded the video also wrote in the caption: "Yall I'm still in shock."
The video has since gotten over 100k views on the platform and people had a lot to say about what had happened on social media.
Many users found her behaviour 'disrespectful' to her guests, while others wondered about the kind of mother she might be.
"I can already tell what kind of mom she's gonna be," said one viewer.
Another said on Reddit: "I feel for that baby that's about to come into the world… hopefully she's got someone to make her feel loved and wanted…"
A third said that they didn't think the mum was 'mature enough' to be raising a child, while another said she should be happy to have a ' healthy child'.
And a fourth viewer said: "You better love that baby girl and take care of her."
While some called for gender reveal parties to be stopped altogether, with one person saying: "Imagine having a whole video on the internet about how your parents didn't want you. Sheesh. Do better parents.
"Stop with the dumb gender reveals and enjoy what you get."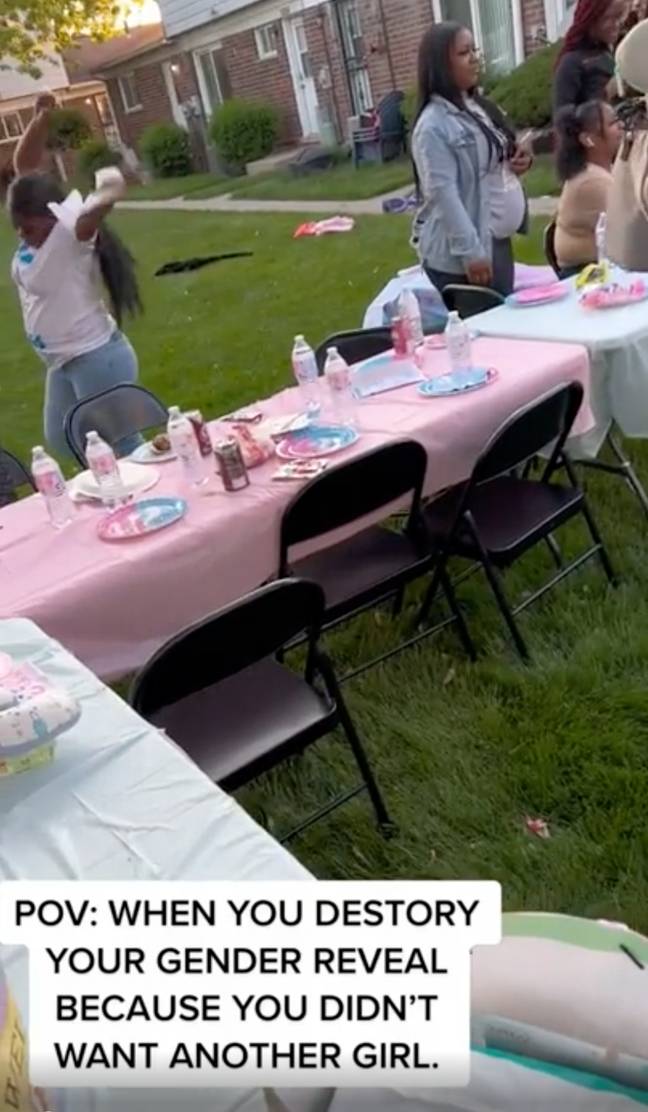 After one party lead to a huge wildfire in California in 2020, blogger Jenna Karvunidis - who'd held her own gender reveal party way back in 2008 - took to Facebook to write a passionate post in which she called the increasingly extravagant parties 'stupid'.
"Oh my god NO," she wrote on 7 September. "The fire that evacuated parts of California is from a GENDER REVEAL PARTY. Stop it.
"Stop having these stupid parties. For the love of God, stop burning things down to tell everyone about your kid's penis. No one cares but you."