Woman shares easy way to wrap gifts that don't come in a box
Featured Image Credit: @beeandblooms/TikTok
With Christmas Day fast approaching, those of us who still have presents to wrap will likely struggle with gifts not in a perfect box shape.
Well, fear no more because a TikTok has shared the simple way to wrap prezzies with unusual shapes which will definitely come in handy this festive season. Watch below:
TikToker Tracie Garrett, who posts fun gift wrapping content the social media platform as @beeandblooms, responded to a comment about the difficulty wrapping objects that don't come in a box.
"Yeah it's easy to wrap things shaped as a box, wrap something difficult," they said.
Tracie took on the challenge and decided to wrap an electric whisk after taking it out of its box.
She used a piece of cardboard, tape, scissors and, you guessed it, wrapping paper to show how quick it can be to wrap.
Tracie begins by placing the electric whisk on the piece of cardboard and cutting a piece to that matches the size of the base of the appliance.
She then uses this piece of cardboard to measure and cut how much wrapping paper she needs.
The next step sees Tracie fold the ends of the wrapping paper to the centre and taping the ends in place to create what looks like a sleeve, before folding the bottom half up.
She then folds the corners and tapes the bottom part of the sleeve to create a flat bottom for the electric whisk to sit on top of the piece of cardboard from earlier.
For the final step, Tracie places the electric sleeve inside the wrapping paper and folds and tapes the corners and the top opening.
Voila! A perfectly wrapped electric whisk.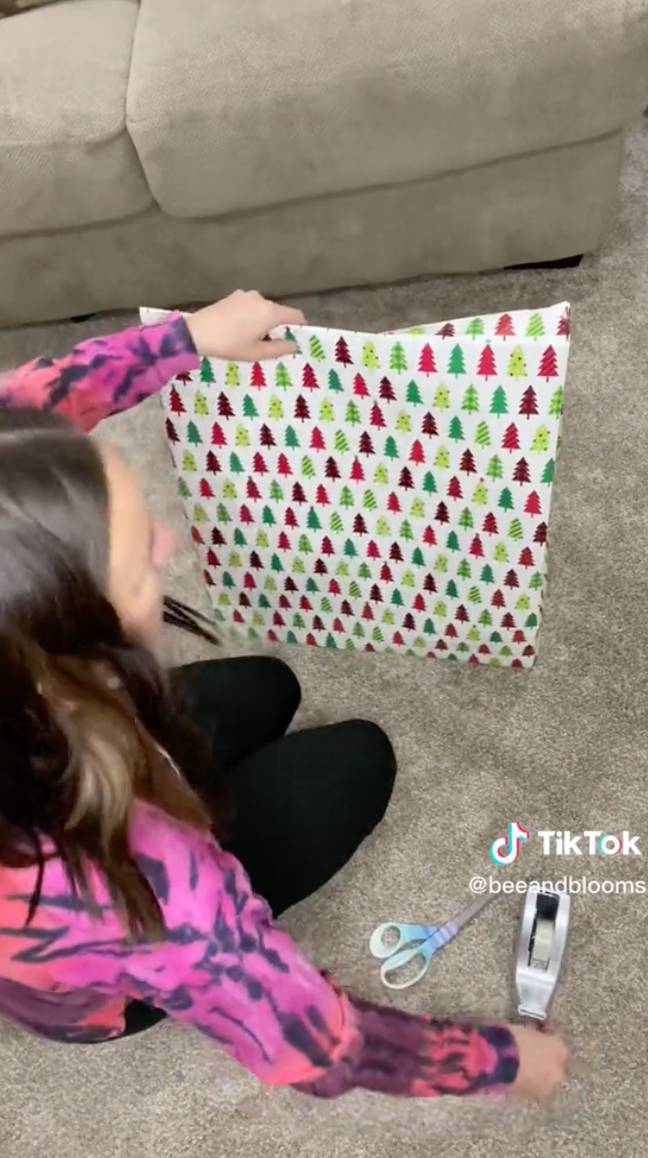 TikTok users were impressed with Tracie's wrapping, with one user commenting: "Oh my God what I am so impressed haha."
One woman confessed: "I spend hours watching these then still wrap like a five-year-old."
"Why is she a genius," third person gushed.
"Me watching a present being wrapped on TikTok instead of wrapping my own presents," another commenter joked.
"You're a gift wrapping hero and I'm jealous," said one TikToker. "I'm also just gonna buy a cute gift bag with tissue paper cause I'm lazy."
Even though lots of people loved Tracie's tips, others still weren't fond with the idea of wrapping gifts. "I just don't have the patience," another user admitted. "Get somebody else to do it."