Doctor issues warning to women after mum shares 'secret' to giving birth in '20 minutes'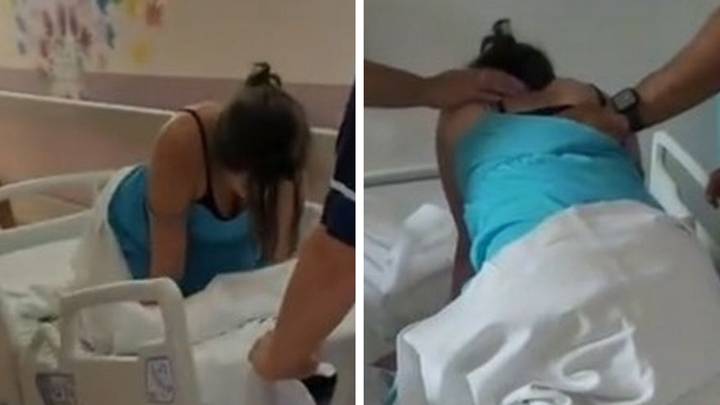 Featured Image Credit: @libbylifestyle/TikTok
Having a baby can be one of the most exciting milestones in a couple's life, but it's only natural for those expecting a baby to be at least a little nervous about the actual birth - which can take hours - and even days - in some instances.
But women have been warned by medical experts after one woman shared the 'secret' to having a labour which was over and done with in just '20 minutes'. You can check out her birth experience here:
Medical professionals have warned others not to attempt the same technique in order to hurry on labour, as it can 'cause your baby distress'.
In fact, the method this woman - who goes by @libbylifestyle on TikTok - used was drinking Raspberry Leaf Tea, which has long been hailed as an elixir which 'helps tone the muscles of your womb so they work more efficiently when you're in labour,' as per pregnancy charity Tommy's.
Whilst some women may begin drinking the tea in their third trimester, which is thought to be a safe practice, they have been warned not to spontaneously begin drinking the tea in order to induce labour.
The site reads: "Some women start drinking raspberry leaf tea in their third trimester, but you should not use raspberry leaf to try to get your labour going.
"If you suddenly start taking it when you're due or overdue, it may cause excessively strong contractions, which can cause your baby distress."
In fact, one registered midwife told Tyla that 'feeling uncomfortable' during the final stages of pregnancy can cause people to resort to natural remedies - but they aren't safe for everyone.
Lesley Gilchrist, a co-founder of My Expert Midwife, told us: "Being heavily pregnant and feeling uncomfortable can lead some women to consider trying a variety of different ways and means to kickstart labour so they can get their baby out sooner!
"Although these may start to sound appealing, it is always best to check to see if they work, and more importantly, are safe for you and your baby."
She warned that if you have had pregnancy or medical complications, previous uterine surgeries or C-sections or vaginal bleeding, 'it may be better to avoid' Raspberry Leaf Tea.
However, Libby, the woman in the TikTok, told us she resorted to the natural remedy as she 'was overdue'.
"I'd much rather use something natural over being medically induced... My birth was intense and quick but the method I used was natural."
Instead, midwife Lesley explained that if you do want to try using the tea during your third trimester (not to kick start labour), she suggests:
Start slowly from 32 weeks by having one cup a day and building up gradually as the weeks progress
After drinking Raspberry Leaf Tea if you feel it has made Braxton Hicks stronger or too uncomfortable, you may want to reduce or stop consuming
Raspberry Leaf Tea can be a diuretic (reduce your hydration levels) so drink more water daily, too
You can drink Raspberry Leaf Tea as a hot drink or try making a batch, refrigerate and drink as a cold beverage
Always discuss remedies like these with your midwife or doctor before you start.