People Are Losing It Over Nicole Kidman's Runway Walk
Featured Image Credit: Balenciaga/@nicolekidman/Instagram
Nicole Kidman had her catwalk debut at Balenciaga's haute couture show this week - and people can't stop talking about her iconic walk.
You can watch a clip below:
Nicole, 55, could be seen wearing a dramatic one-shoulder silver gown as she walked alongside the likes of Kim Kardashian and Naomi Campbell.
But people were divided over her walking, with some calling it 'robotic'.
One person wrote on Twitter: "I could have sworn I've seen Nicole Kidman walk like a human before, but you wouldn't know it from that Balenciaga runway she just did."
While another said: "Nicole Kidman giving robot on Balenciaga runway."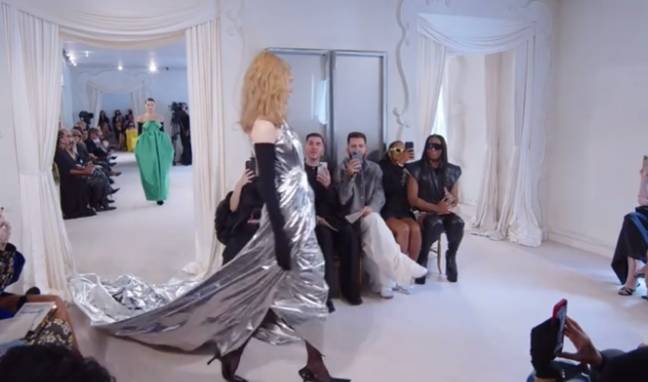 Others had the opposite view however, with another person adding: "Look how great Nicole Kidman looks."
While a second said: "Nicole kidman looks amazing."
Others defended Nicole with another adding: "Everyone talking about Nicole and Kim's walks, like hello, they aren't models like Naomi is."
"That's Nicole Kidman. She's a phenomenal actress and very tall. She does walk like a statue that just came to life... The only 'model' in this is Naomi Campbell," added another.
Nicole was joined on the runway by Kim, Naomi, Dua Lipa and Bella Hadid who all walked for Balenciaga.
Kim could be seen wearing a black bodysuit dress, sharing photos from the event on Instagram.
"BALENCIAGA HAUTE COUTURE SHOW! What an honor to walk in a couture show! thank you @balenciaga and @demna for this amazing experience!" She wrote.
Kim was in Paris with her eldest daughter, North this week. During their trip, the family headed to a restaurant the night before the runway event, where paparazzi were waiting outside.
"Why do you have to wait for us all the time?" The nine-year-old can be heard asking the photographers, in a video, which was shared by Instagram account @kardashiansocial.
One yelled back: "Because you're so famous! We love you, North!"
It's not the first time North has talked back to the paparazzi.
Back in 2015 when North was just two, she was filmed telling the photographers: "I said no pictures!"
And in one memorable episode of Keeping Up With The Kardashians, North had asked her mum why there were 'lots of people everyday taking pictures of us'.
Kim explained: "Well, to get very technical, my name is Kim Kardashian and daddy is Kanye West. And daddy is a singer, performer, artiste. Mommy... has so many talents I can't even begin to name them."