Married At First sight star sparks outrage over 'obese' mannequin comments
Featured Image Credit: @danielholmes/ Instagram
Married At First Sight star Daniel Holmes has sparked outrage after criticising 'delusional' sportswear brands for using plus size mannequins.
Daniel, who appeared in this year's season of MAFS Australia, upset a lot of fans this week when he claimed that the plus size mannequins in Nike Stores are 'promoting early death.'
The personal trainer shared a photo of the shop floor to his Instagram Story on Monday (5 December) and wrote: "Those that say this is empowering are completely delusional. It's promoting early death. There's no power in that."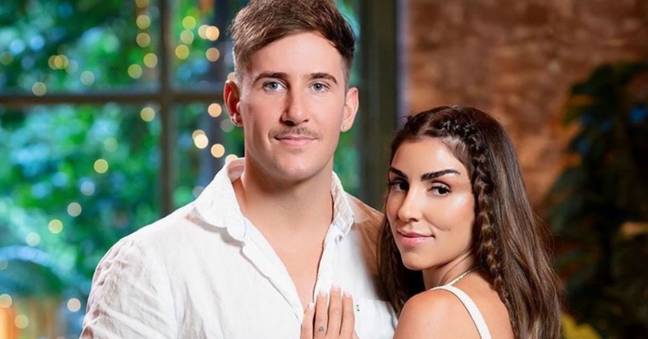 Nike launched their range of plus-size mannequins back in 2019 in a groundbreaking effort to make their brand more inclusive to all body types.
Soon after the controversial post, the reality star posted a video to Instagram to explain himself after he was sent a wave of angry messages from enraged fans.
Insisting that he wasn't 'body shaming' women, Daniel tried to argue that the real problem came from 'brands [that] start to cater to this unhealthy body type.'
Noting that a lot of the messages in his inbox were asking him what overweight people were supposed to wear to the gym instead, Daniel answered: "Clothes? You know what I mean? Like, it's just the gym.
"Just a bunch of metal objects sitting around and stuff and you just pick them up and stuff like that. Like, you don't necessarily need to wear specific branded clothing to do that."
Very helpful advise from the full-time personal trainer, don't you think?
Needless to say, it looks like Daniel didn't really win many people over.
Furious viewers flooded the comments of his video with counter-arguments, pointing out that people who are overweight should have just as much access to activewear as anyone else.
"As someone who is plus sized, seeing that mannequin encourages me to get into the gym because there is comfortable gym clothing that caters to my current size", explained one follower. "Your original post is exactly why plus sized people can feel uncomfortable and judged in a gym environment."
A second complained: "You give people sh*t for selling plus size workout clothes and say it's promoting obesity. What is it you want us to do? Not workout? Wear tents at the gym? Hide at home?"
And a third assured Daniel: "Mate, no one is arguing that being obese is unhealthy. The point is that all people deserve to wear clothes that make them feel good."
People were just as ticked off when they watched Daniel attempt to lecture his followers on the dangers of being obese, all while drinking a pre-mixed vodka drink and smoking a cigar.
"How the hell you talking about normalising unhealthy behaviours is wrong while smoking a f***ing cigar and drinking alcohol hahaha I'm weak", commented one amused viewer.
Another joked: "Wow......I think you are the delusional one. Keep smoking that cigar and drinking."
Especially irritated viewers couldn't help but point out that Daniel wasn't exactly in a position to lecture people on unhealthy lifestyles, since he previously suffered from a steroid addiction.
The 31-year-old had shared his secret addiction with Instagram followers after appearing on MAFS, confessing that he had been using steroids from the age of 23 up until he signed up for the reality show.
One follower told him: "It's a bit rich preaching about healthy lifestyles etc when you have abused steroids don't you think?"
Daniel appeared on this year's MAFS Australia, and ended up leaving the show with fellow contestant Carolina Santos.
Unfortunately, though, things didn't last long, with the couple announcing their split in August.