Content warning: This article contains sensitive topics including sexual assault.
The latest season of The Umbrella Academy dropped earlier this week, 22 June, and has already left fans totally outraged at episode five's controversial content.
The new season shows viewers familiar faces; Elliot Page, Tom Hopper, David Castañeda, Emmy Raver-Lampman, Robert Sheehan, Aidan Gallagher and Cameron Britton – however one thing did come as a shocking surprise.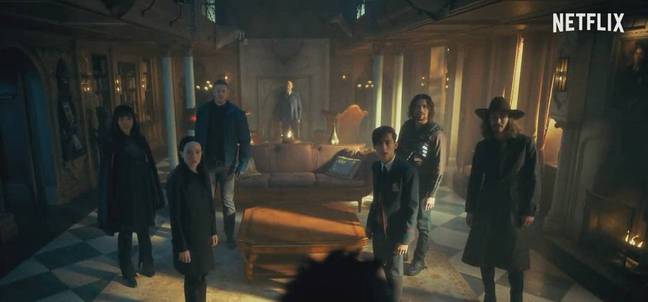 About 30 minutes into episode five of the new season, a sexual assault scene unfolded with no prior trigger warning from the outset.
"If y'all are watching The Umbrella Academy please please PLEASE be careful with season 3 episode 5... I CAN'T pinpoint exactly when there's a no no scene but be cautious when watching!!"
Another Twitter user called out The Umbrella Academy's lack of content warning : "Episode 5. No warnings? No follow up on an attempted sexual assault (a "rumor roofie" is pretty much what she did), no resolution anywhere, her life just goes back to perfect? I enjoyed Viktor, but this was definitely a HUGE fubar and the last season for me."
A third Twitter user likewise called out the production company, tweeting: "You could have put a TW [trigger warning] on episode 5 this season – like I didn't know that I was going to watch a rape scene."
Many fans of the Netflix series generally agreed that the streaming platform 'should've put a trigger warning for SA' on the controversial episode.
Several are also commenting on Netflix's 'poor showing'.
Other watched went as far to call the lack of content warning 'disgusting'.
"God wish I knew better and not to look at the scene in Episode 5. Like what the actual f***. That's disgusting. How did the people behind this show let this happen???"
Tyla has contacted Netflix for comment.
For those who aren't avid watchers of The Umbrella Academy, the plot essentially follows a group of adopted siblings all born during an extremely unusual phenomenon.
Following years of separation, the bizarre family 'reunites' to solve the elusive mystery behind their father's death.
Following an action-packed season teaser, the latest series definitely promised plenty of action as the siblings realise that they have created a time paradox – but not any type of paradox, 'the freaking Kugelblitz' to quote Five, but fans clearly were not expecting the kind of drama that has just unfurled.
The Umbrella Academy season three is available to watch on Netflix now.