The Tourist Viewers Say 'Gaslighting' Ethan Is 'The True Villain' Of Series
Featured Image Credit: BBC
We have been hooked on The Tourist, the BBC One drama following an enigmatic man (played by the gorgeous Jamie Dornan) who loses his memory after a car crash.
But as much as we've enjoyed 'The Man' trying to find out who he really is, we've totally fallen for hapless traffic cop Helen Chambers (Danielle Macdonald), who comes to support him as he struggles to puzzle out who he is.
Helen, who just wants to do right by everyone, is set to be married to Ethan Krum (played by Greg Larsen) – and their relationship is far from happy.
While Helen wants to rise up in her career to become a detective, Ethan is keen to crush his fiancées spirit – urging her to lose weight, saying she won't ever be good enough to progress in the police, and threatens to leave her whenever she disobeys.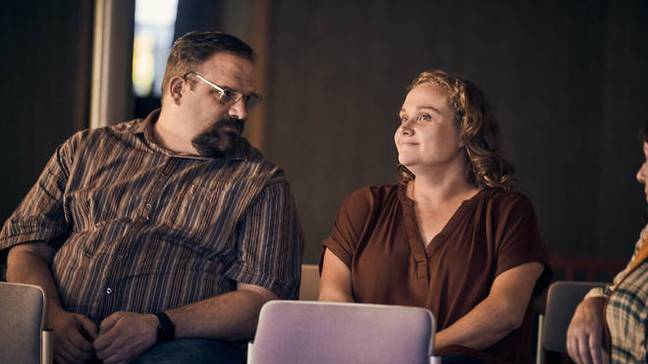 His behaviour is so appalling that many viewers have taken to Twitter to say he's the real bad guy of the series – never mind the gun toting killer out to kill 'The Man'.
Taking to Twitter, one person wrote: "I can't help thinking Ethan in #TheTourist is written as so pantomimically repulsive it feels he's a bigger villain than the drawling shotgun-toting American with the multi-occupation mother."
"Almost finished ep 2 of #TheTourist and fervently hoping that Ethan is murdered in the most gruesome way imaginable. What a controlling p***k," agreed a second.
A third bluntly agreed "Ethan is a gaslighting twunt. Helen deserves better."
"Early I know but nominating Ethan Krum from #TheTourist as the most revolting screen character of 2022," boldly claimed a fourth. "Loving the series though."
Luckily, comedian Greg Larsen, who plays the slimy Ethan, is aware that the character he plays is sickening.
After someone described Ethan as "the character I'd most like to punch in the face in TV history", Greg joked on Twitter: "Getting lots of good feedback!"
And his self-awareness has earned him a few points from viewers, at least.
"Haha Ethan from #TheTourist is aware that he's the true villain of the show," laughed a fan.
The Tourist airs Sundays at 9pm on BBC One, and is available to watch in full on BBC iPlayer.