Chilling true story behind Netflix's new true crime doc Murdaugh Murders
Featured Image Credit: Netflix
Netflix's latest documentary Murdaugh Murders: A Southern Scandal covers a chilling case that went down just under two years ago and still South Carolina reeling.
The scandalous true crime story started with a tragic boating accident, but soon got wrapped up in secrets, fraud, greed, and murder. Check out the trailer here:
So, what really went down in South Carolina in 2021? Let's dive in, shall we?
The main characters in this story are, you guessed it, the Murdaugh's - a prominent legal family who played a key role in criminal prosecutions for more than 80 years.
In 2021, the family dynasty rested on Alex Murdaugh's shoulders.
Alex, his wife Margaret and their two sons Buster and Paul were living quite a lavish lifestyle thanks to their family fortune with boats, a beach house, private islands and an almost 2,000 acre estate
But not all was well in the Murdaugh family. You see, Alex and his two sons had their private lives under speculation due to their alleged drug and alcohol addictions and wild lifestyles.
Alex was also accused of a number financial crimes, including fraud, and embezzlement.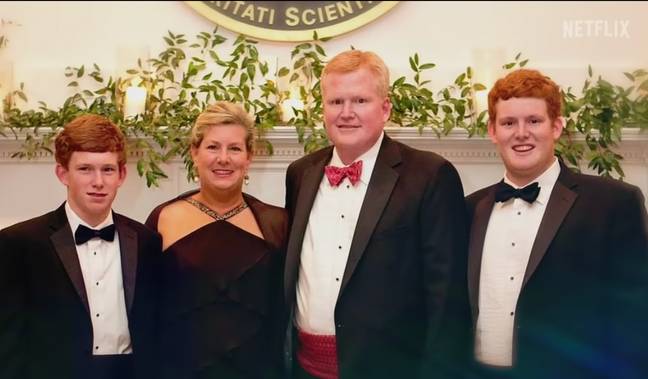 Things came to a head for the Murdaughs in 2019 when son Paul was out on the family boat with some friends. The boat unfortunately crashed into a bridge, and a number of passengers were thrown overboard, resulting in the death of 19-year-old Mallory Beach.
Witnesses have alleged that Paul, who was drunk at the time, had insisted on driving the boat before the crash occurred.
As expected, Mallory's death led to lawsuits, investigations into Paul Murdaugh for boating under the influence, to which he pled not guilty.
People worried that, because of the Murdaugh Family's influence, Paul would get off scot-free.
That's why it was so shocking when he was found dead ahead of the trial.
It was 2021 when Paul was found dead, alongside his mother Margaret.
Interest was growing around Paul's upcoming trial and Maggie, who was estranged from her husband Alex at this point and living in the family beach house, was reportedly looking into divorce.
On June 7, Margaret was persuaded to visit Alex at their family estate. When she arrived, she met Paul at the family's dog kennels.
Before the mother and son could make it into the house, both of them were shot and killed. Alex reportedly appeared at the scene soon after and called 911.
It wasn't long before Alex became the main suspect in the two murders.
By September 2021, Alex had resigned from the family business, after being plagued with embezzlement accusations.
Almost immediately after his resignation, Alex made another call to 911 from the side of the road, claiming that a stranger had stopped to help him with a blown tire, but wound up shooting him in the head.
Just as many had suspected, that's not what actually went down.
Alex eventually confessed that the whole shooting was a set-up and he had arranged for someone to shoot and kill him so that his only living son Buster could get a life insurance payout of $10 million.
Both Alex and his accomplice were later arrested for conspiracy to commit insurance fraud and Alex was - obviously - disbarred.
Just last year, Alex was also charged with the double homicide of Margaret and Paul, to which he has pled not guilty.
Murdaugh Murders: A Southern Scandal will drop on Netflix on February 22.