Lash tech horrified after client came with 'worst case of dirty lashes she'd ever seen'
Featured Image Credit: TikTok/@ipsbeauty
A lash technician has shared her horror at the dirtiest lashes she's ever dealt with and it's enough to put you off your dinner...
Ipek Ozcan, who runs IPS Salon in London, explained how the lashes were so dirty, they were the 'worst case' she'd ever seen.
In a clip shared to TikTok - under the username @ipsbeauty - the lash expert shows off the client's lashes, which appeared to be covered in layers of makeup.
She captioned the post: "The worst case of dirty lashes I've ever seen."
Ipek can then be seen trying to carefully remove them. However, the makeup residue has turned solid and the lashes come off in massive clumps.
The video soon went viral, racking up a massive 500k views and it seems TikTok users were just as disgusted by the dirty lashes as Ipek.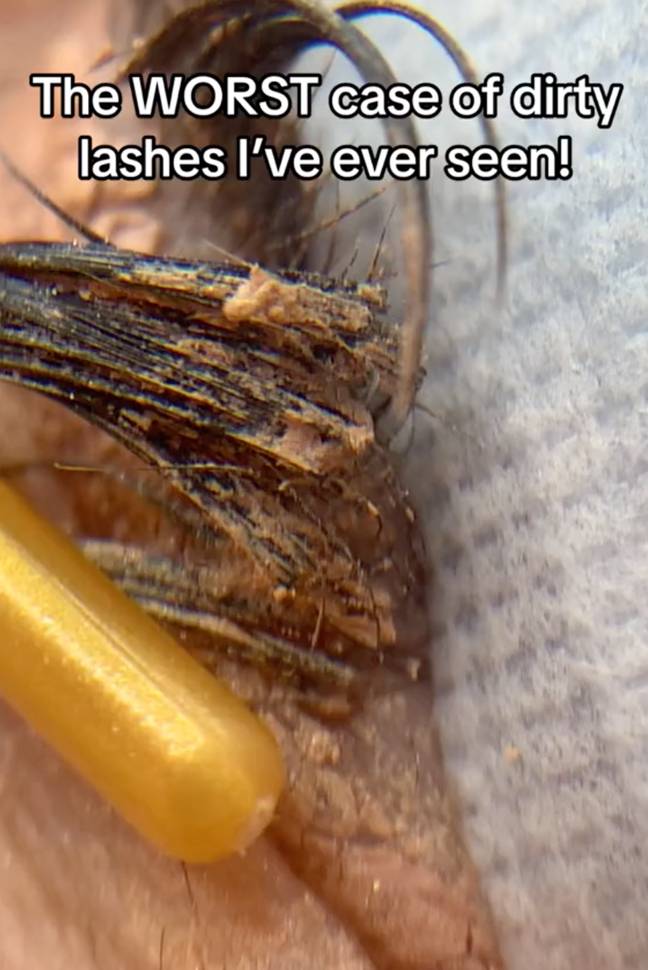 One person wrote: "Looking at that made my eyes itch."
Another quipped: "Makes you wonder if they wash anything else."
A third joked: "Damn! Was she using wheat flour for powder?"
Meanwhile, further commenters quite understandably mistook the lashes for creepy crawlies at first glance.
One user noted: "I swear I thought those were crickets!"
A second added: "I thought this was a dead spider!"
Back in 2021, Ipek shared another video to TikTok about what can happen if you don't clean and care for your lash extensions properly.
The clip shows her client's dirty lashes covered in a crusty yellow build-up as Ipek explains the difficulty with cleaning extensions that haven't been properly maintained.
She says: "Once your lashes get to this point of unclean, there is no cleaning. Cleaning will not work!"
Ipek continues to scrub the lashes but the build-up does not disappear.
"These need to be removed and her natural lashes are going to be so damaged its not worth the damage just clean your lashes," she adds.
Consultant oculoplastic and ophthalmic surgeon, Dr Elizabeth Hawkes, spoke to Tyla about the 2021 video.
She said: "If you find your eyelashes have a crusty build-up like this, this could be a sign of blepharitis, or lid margin inflammation. This condition affects the oil secretions to the ocular surface and causes the eye to water."
Symptoms of blepharitis include red eye, burning, sticky eyes, excessive watering, light sensitivity and eyelid twitching.
"It's very important to keep lash extensions clean, making sure that bacteria and makeup doesn't become trapped in the lashes," Dr Hawkes explained.
"I would suggest using Blephex, a medical-grade eyelash cleaning product recommended by eye specialists."