Met Office Explains Why Heatwaves In UK Feel Hotter Than Being On Holiday
Featured Image Credit: Alamy/Shutterstock
Have you ever wondered why a heatwave feels so much hotter in the UK, compared to when you're lounging around the pool on holiday abroad?
Well, the Met Office has shed some light on why it feels this way, as the UK continues to sizzle in sweltering temperatures.
"The level of humidity can be higher in the UK than in continental Europe. If humidity is high, it is harder for the human body to keep cool as your sweat doesn't evaporate as quickly," a spokesperson told MyLondon during the heatwave last year.
"This is made worse given that we are experiencing more 'tropical nights' – nights where the temperature doesn't go below 20ºC, meaning we get no respite from the heat and time for our body to recover. Buildings in the UK are also designed to keep heat in, compared to hotter countries. And we are less likely to have air-conditioning."
It also may be psychological, as we tend to expect the high temperatures and humidity while we are away on our hols.
The UK is currently in the midst of a scorching heatwave, with the Met Office explaining it is 'uncertain' how long it could last. However, in a tweet, it explained 'cooler and more widely unsettled conditions' could be expected later next week.
Meanwhile, bookies Coral has slashed its odds of this month being the hottest July on records, from 5-4 to just 1-2.
An amber alert for extreme heat is also in place for both Sunday 17 and Monday 18 July, when temperatures could exceed the current record of 38.7ºC.
With the exceptionally high temperatures, a Cobra meeting took place on this week as ministers drew up their first-ever heatwave emergency response.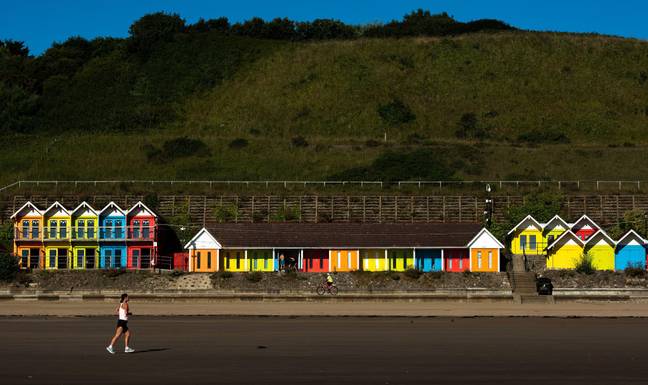 Councils have gritters at the ready just in case the roads begin to melt, while National Rail has issued warnings over train delays due to lines being affected by the high temperatures.
Speaking about the heatwave, the Met Office's deputy chief meteorologist Rebekah Sherwin said: "Warm weather is likely to continue throughout this week and it looks likely to ramp up late this week and into early next week.
"From Sunday and into Monday, temperatures are likely to be in excess of 35ºC in the southeast, although the details still remain uncertain.
"Elsewhere, temperatures could be fairly widely above 32ºC in England and Wales, and in the mid-to-high 20s Celsius further north."