Why Prince Louis was missing from the Queen's funeral
Featured Image Credit: Doug Peters/PA/Alamy
Prince Louis did not attend his great grandmother, the Queen's funeral today at Westminster Abbey.
George, nine, and Charlotte, seven, walked behind the Queen's coffin after it had entered Westminster Abbey just before 11am on Monday (19 September).
Prince Louis was seen during the Queen's Platinum Jubilee celebrations earlier this year, where he stole the show appearing on the balcony of Buckingham Palace to watch the flypast.
At one point, the little one could be seen having a conversation with his great grandmother as he joined his siblings for the celebrations, as well as pulling a series of funny faces at the crowds.
The royal children have recently been given new titles, in light of the Queen's passing and their grandfather King Charles becoming monarch.
With Prince William and Kate now known as Prince and Princess of Wales, the children have taken on new titles of Prince George of Wales, Princess Charlotte of Wales, and Prince Louis of Wales.
Recently, Kate revealed that youngest son Louis had been struggling to make sense of Queen Elizabeth II's passing. It's also believed that little Louis, who is four, was considered too young to attend the day's events.
The night before the Queen's funeral, King Charles III hosted a reception for Commonwealth dignitaries - during which, Kate spoke to Australia's Governor-General David Hurley about how her children were coping with it all.
While eldest son Prince George is 'sort of now realising how important his great-grandmother was and what is going on', his little brother Louis is still at a bit of a loss over what's happened.
"The younger one is now asking questions like, 'do you think we can still play these games when we go to Balmoral?' and things like that, because she's not going to be there?," said Mr Hurley, MailOnline reports.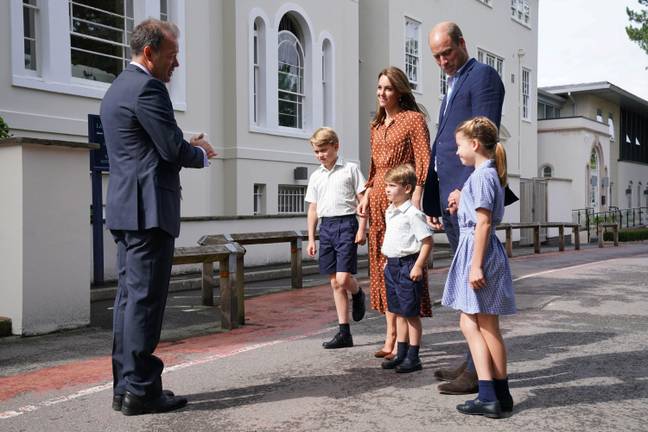 Following the Queen's death, William and Kate told one well-wisher that they were trying to keep things 'as normal as possible' for their three children.
Teacher Elaine Gee, 58, revealed: "He spoke about George, Charlotte and Louis, saying that they were trying to keep some sense of continuity for them at school and keep things as normal as possible."
The children had just recently started a new school, Lambrook School in Berkshire, shortly before the Queen's death.