Kate Middleton lets slip 'adorable' nickname for Prince Louis
Featured Image Credit: Daniel Leal/Leon Neal/PA Wire
Kate Middleton has let slip the adorable nickname for her son Prince Louis.
It was the first ever royal engagement for Louis, five, who completely stole the show at the Queen's Platinum Jubilee last year by cheekily pulling funny faces at the crowds.
Louis was joined by his siblings, Prince George, nine, and Princess Charlotte, eight, and his parents, the Prince and Princess of Wales, for the third day of coronation celebrations.
Prince Louis opted for a sweet snack around the fire after digging with his dad.
An adorable clip from the day shows Kate and a scout member helping Louis prepare a S'more – a sandwich made from a melted marshmallow between biscuits – which he wasted no time eating.
The mum-of-three affectionately called her youngest child 'Lou-Bugs' as she told him to put his wooden stick used to toast a marshmallow into the fire.
Louis definitely enjoyed his snack as he licked the marshmallow off his fingers while eating the delicious s'more.
Prince William could be heard making a joke about his son's apparent sweet tooth. He told the crowd: "You won't hear a peep out of him now," as everyone chuckled.
The youngest child of the Prince and Princess of Wales' children was spotted at Westminster Abbey attending his grandfather's coronation service on Saturday (6 May).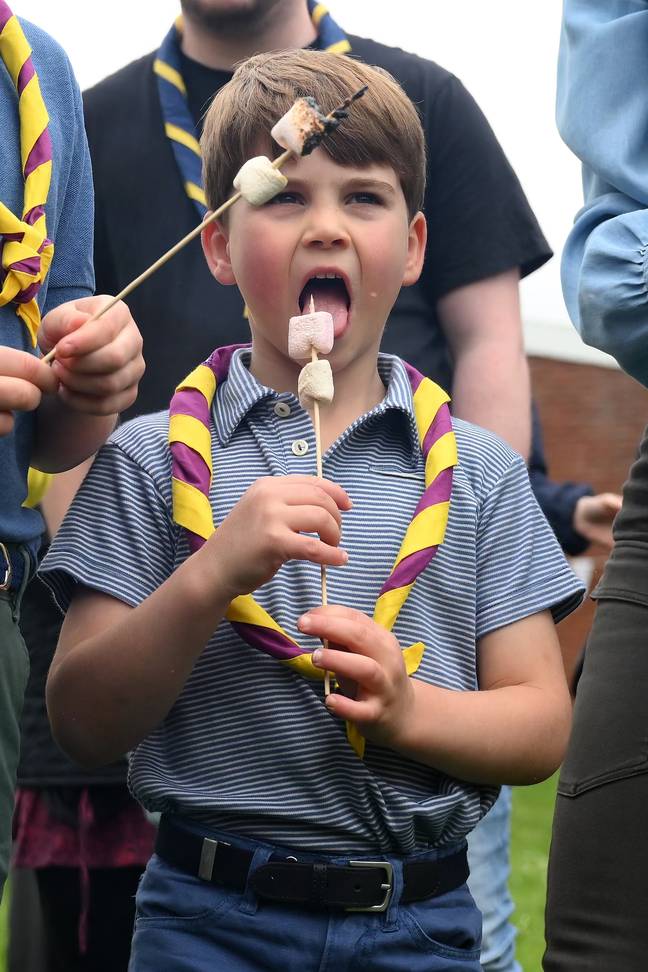 He walked into the service hand-in-hand with his elder sister Charlotte, following closely behind their mother and father.
However the millions of viewers at home soon noticed that after joining his family for a few hymns in the seated area of the church, he seemed to disappear from sight.
But the answer was a simple one. Prince Louis - like every other five-year-old - finds sitting peacefully through a two-hour service quite the challenge.
ITV News Royal Editor Chris Ship also reassured viewers at home: "Hello from Prince Louis. At age five, we are told he will be seated and then 'retire' for a while during the two-hour service #Coronation."
As it turns out Prince Louis needing a quick break and as we all now know, it was a very long weekend!