Woman recalls 'shock' after finding missing husband's body in wardrobe after eight months
Featured Image Credit: Fox 2
A woman has described her 'shock' after discovering her husband's remains in a wardrobe while looking for Christmas decorations.
Richard Maedge, 53, from Troy, Illinois, was reported missing on the afternoon of 27 April, 2022 and despite searching the couple's home a total of three times and launching an investigation, police were unable to find him.
The search for Richard's whereabouts came to a tragic end on 11 December 2022, when wife Jennifer, 49, went to retrieve some Christmas decorations. She was shocked to discover her husband's corpse in the wardrobe in their home.
Jennifer claims she rarely visits what she describes as a closet-within-a-closet beneath stairs.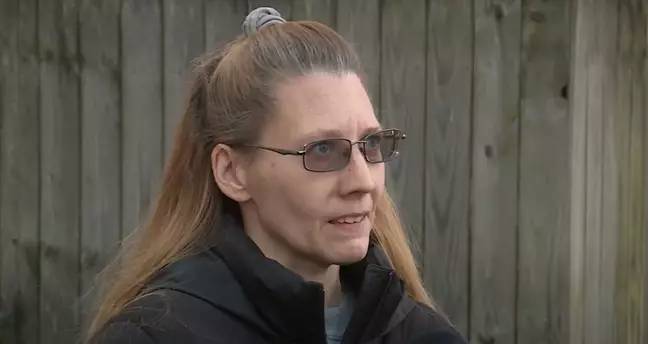 Richard's death has since been ruled as a suicide, a county coroner report has said, and no evidence of foul play was found.
Three months after discovering her husband's body, Jennifer spoke to People about the moment she found Richard's remains and her husband's mental health.
"It was pretty shocking," she told the publication about the moment her flashlight illuminated her husband's body.
The storage area where Richard was found was only accessible through a door hidden in a larger outer closet after the couple remodelled their home.
"Just to go in there, I had to remove a portion of my clothes out of the closet without climbing around all the stuff that was in there," she explained.
"And then, I had a flashlight, so basically opening the door and seeing him there was just total shock."
Jennifer explained Richard – to whom she was married to for 20 years - had 'mental health issues in the past and he would get help for it'.
However, she did not think he would take his own life. "He told me that he knew the breaking point and he would get help," she said. "So, this would be the most far-fetched of anything, that he would actually go through with his.
"He never verbalised anything [like] he would take his life to me."
Troy police officers smelled a 'sewer-like odour' when they searched Richard and Jennifer's two-storey home but were unable to find the source of the smell, Chief Deputy Coroner Kelly Rogers told KTVI. Rogers said that police called the Maedge household a 'hoarder home'.
"'Hoarder' is a strong word," Jennifer responded, "but he was more — I would consider, more of a pack rat."
The odour was also noticeable during when the police visited the property a second time. Jennifer hired a plumber who detected an 'ammonia' smell but was also unable to find the source.
Jennifer does not remember telling the police about the wardrobe space. "I didn't ever really think of it, because I never thought that he was there," she explained.
"It never occurred to me that he would've taken his own life."
Richard had three adult children from a previous marriage and was a grandfather to three children.
If you've been affected by any of these issues and want to speak to someone in confidence, please don't suffer alone. Call Samaritans for free on their anonymous 24-hour phone line on 116 123