People call for 'ignorant' Do They Know It's Christmas? to be pulled from the air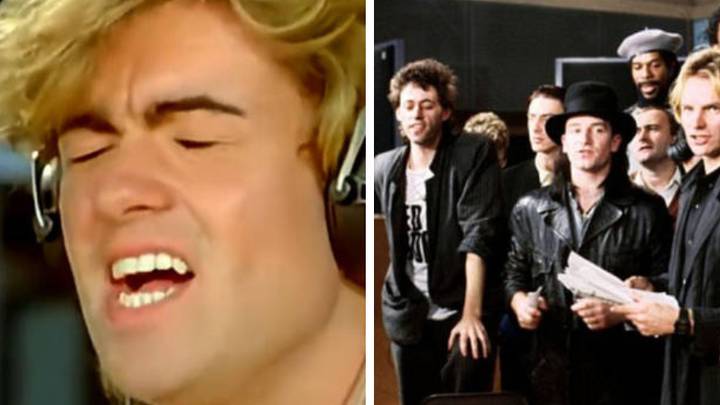 Featured Image Credit: YouTube/Live Aid
Although there are plenty of Christmas classics people are happy to hear during the festive period, there's one song in particular that's been causing a stir in recent years.
And 2022 is no different.
Listeners are now calling for the 'ignorant' track to be pulled from the air due to its 'offensive' lyrics.
The song itself was written by Bob Geldof and Midge Ure nearly 40 years ago in response to the famine in Ethiopia, and it's been a fixture on yuletide playlists ever since.
Although it became the Christmas number one that year, even when it dropped back then, the lyrics came under scrutiny.
To refresh your memory, here are some of the questionable lines from the song: "And the Christmas bells that ring there are the clanging chimes of doom, well tonight thank God it's them instead of you.
"There won't be snow in Africa this Christmas time, the greatest gift they'll get this year is life."
It later adds: "Here's to them underneath that burning sun, you ain't gotta feel guilt just selfless, give a little help to the helpless."
While the song was written as a famine was rocking certain countries, it's a sweeping, mass generalisation for an entire continent.
What's more, others pointed out the patronising message behind it all.
The track ultimately was a bit of a 'who's who' of celebrities, getting the likes of Sting, George Michael, Bono, Paul Weller, Boy George and Phil Collins, among others, into the recording studio.
Writer Indrajit Samarajiva opened up about the issues behind the song and explained why it needed to be cancelled in a post for Medium.
He said: "It's not just that these lyrics haven't aged well. They were never good at all. They take an ignorant and colonial attitude, more about making white people feel good than helping anyone."
Samarajiva went on to point out: "It does snow in Africa, although not a lot. Food does in fact grow on the continent, they do have water, and North Africa, as part of the Roman Empire, was celebrating Christmas centuries before England.
"Perhaps they were thinking of Antarctica?
"You can say it's all a metaphor, but what does the metaphor communicate? That Africa is a desolate, dark place which white men have to get together and save?"
Many people agree with this sentiment, with one writing on Twitter: "Anyone else find 'Do they know it's Christmas' offensive?
"Why would Africans not know it's Christmas? Why is the greatest gift we'll get this year life?…I dunno just doesn't sit right with me."
Another said: "How are people still tentatively asking 'Is 'Do They Know It's Christmas' offensive?' The answer is a blatantly obvious, resounding YES."
A third added: "This is the time of year where we stop and think about how terrible the lyrics to 'Do They Know It's Christmas?' really are."