Woman praised for standing up to plane passenger who wanted to swap seats mid-flight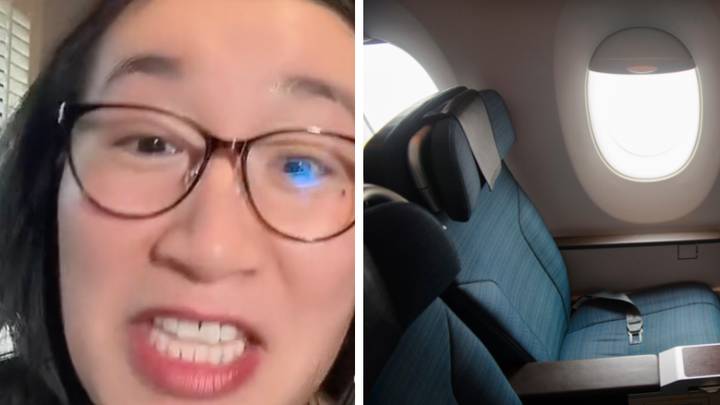 Featured Image Credit: TikTok/@not.cristinayang/Tewin Kijthamrongworakul/Alamy Stock Photo
A woman on TikTok has been praised after she stood up to a plane passenger who wanted to swap seats during a flight.
TikToker @not.cristinayang explained how she was sitting in a premium economy seat during a flight from Hawaii to Seattle, when a woman approached her row and asked the lady next to her if she would swap so she could sit next to her friend.
You can watch the video below:
"I'm sitting in the window seat and right next to me in the middle seat is a little Asian woman. I think she's Japanese," she explained.
"She was really soft spoken and on the aisle seat there was another person. So the aisle seat person is traveling with another woman and her companion says, 'I wanna sit next to my friend'.
"And she looks at the Asian lady next to me… she says, 'Let's switch seats, I'm back in 26'."
The TikToker explained that they were sitting in premium economy, with unlimited snacks and drinks - which would not have been provided in row 26.
"Mind you we're in premium economy. We're like in row eight with all the unlimited drinks and snacks," she continued.
"And so she starts getting up and I'm like, 'no!'"
The TikToker then explained that the woman tried to justify her request by explaining her seat was a window seat rather than a middle seat.
Telling a white lie, @not.cristinayang claimed that the pair were travelling together and insisted that the lady did not swap her seat.
"And so the lady is like, 'oh, but it's a window seat, it's so much better than a middle that she has,'" she continued.
"I was like, 'except for the fact that we are traveling together. Hello? We're both Asian, of course, we know each other. And 26 is not premium economy... it's like you can smell the toilet back there. No!'"
The TikToker explained how eventually, the passenger gave up and other followers couldn't stop praising her for standing up to her.
One wrote: "Glad you were there, so that older lady was not taken advantage of."
While another said: "Or her friend could have moved back to sit with her. You don't ask someone to downgrade for your convenience."
And a third added: "This story is top tier! I love that you stood up for her!"
What would you have done?