Mum-of-five shares life-changing hack to buy her children school shoes
Featured Image Credit: SWNS
Taking children shoe-shopping before school starts can be a stressful ordeal however one mum-of-five has found a simple and cheap hack to buy all of her youngsters new shoes without dragging them to the shops.
Terry Wheatley, 33, says her children – who are all under the age of 10 – hate shopping for shoes.
In the past the mum has tried taking them out as a group, which is a mammoth task, while taking them each individually would take five days – not to mention the price in petrol.
Now the mum has found a solution for her yearly problem that many parents face thanks to some cardboard and a pen.
Harry, 10, Eloise, eight, Edith, six, Noah, four and five-month-old Tommy no longer have to worry about being taken to the shops for shoes. Terry made them all stand on a piece of cardboard for her to draw around their feet.
She then took the cardboard cutouts to Tesco to buy new footwear for each of her kids in one quick trip.
"Shoe shopping is one of the most stressful activities with five kids, so I thought I'd make my life easier," Terry said.
"I know what style of shoes they all like so it was quite easy once I went into the shop.
"They have worn the shoes around the house and all of them fit like a glove.
"I made sure to make the stencils out of cardboard not paper so I could put each of them in the shoes to check the fit."
However, Terry soon realised after posting her hack on TikTok that she wasn't the only parent who had thought of this hack. In fact, some other parents shared how the cardboard cut-out trick had saved them dreaded trips to the shops with their kids.Terry runs a tight ship along with husband, Matthew Wheatley, 36, and makes sure to organise well in advance each aspect of family life.
In other news, families can apply to get a £150 school uniform grant.
As the cost of living crisis continues heading into the colder months, with households already struggling to pay for food, fuel and energy as prices rise, families may be able to get help.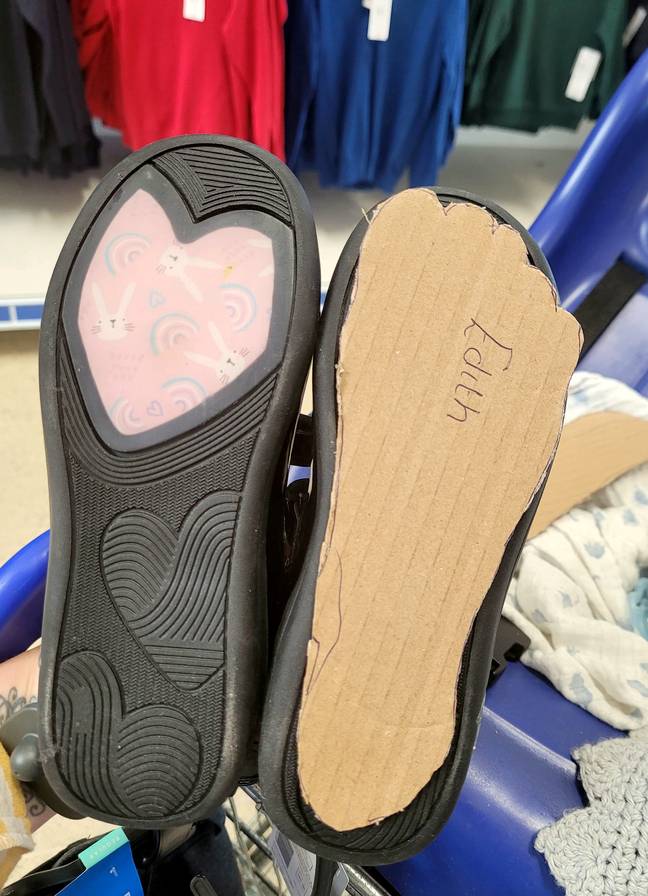 Not everyone will be able to receive the grant because it is not compulsory in England. This means that not all local authorities will offer it and each council will have their own criteria for who is eligible.
The size of the grant will also vary across councils and the child's age will also help to decide who can get the grant.
Parents who claim free school meals, have low incomes, or claim benefits will likely be able to claim the added support for their children's uniforms.
Applying for the grant also varies between councils, however the process usually involves completing an online or paper form that can be emailed or posted to the office of your council.
Applications are usually open between June or July until the end of September, the deadlines can vary and it's imperative to check your own councils deadline.
You can find more information about the grant here.