A restaurant in Surrey has issued an official apology to patrons after facing heavy criticism for its 'sexist' dress-code.
The Beluga Bar in Leatherhead was gearing up to open this week when some excited customers noticed their rather strict entry requirements.
Like many smart establishments, the restaurant had a policy against tracksuits and hoodies, but some parts of the dress-code description raised some eyebrows.
The dress-code, which has since been removed from the restaurant's website, had suggested that women meet some rather specific requirements.
It read: "Dress code is smart casual with jackets for men, no tracksuits, no t-shirt and women can wear skinny jeans with sexy black ankle-strap heels and with a form-fitting top.
"Alternatively, there are many different types of dresses that would look good at a bar in the summer or winter, namely a midi or bodycon dresses."
Needless to say, people were furious when they read the requirements and took social media in an outrage.
Calling out the restaurant, which is 'strictly invite only', one person commented: "WTF have you read how sexist and how out of touch your T&Cs are for 2022!"
Another added: "Never in a million years! Your dress code is appallingly misogynistic. If this is how you treat your customers, I pity your employees. Your antiquated attitude is shocking, disgusting and not welcome. Shame on you all."
A third took to Facebook to write: "Your dress code is disgusting and sexist! Should be ashamed… a lot of people will be boycotting"
After deleting the controversial dress-code - and a lot of the backlash - a spokesperson for the restaurant issued a public apology, noting that the description was : "inappropriate, disrespectful, and offensive."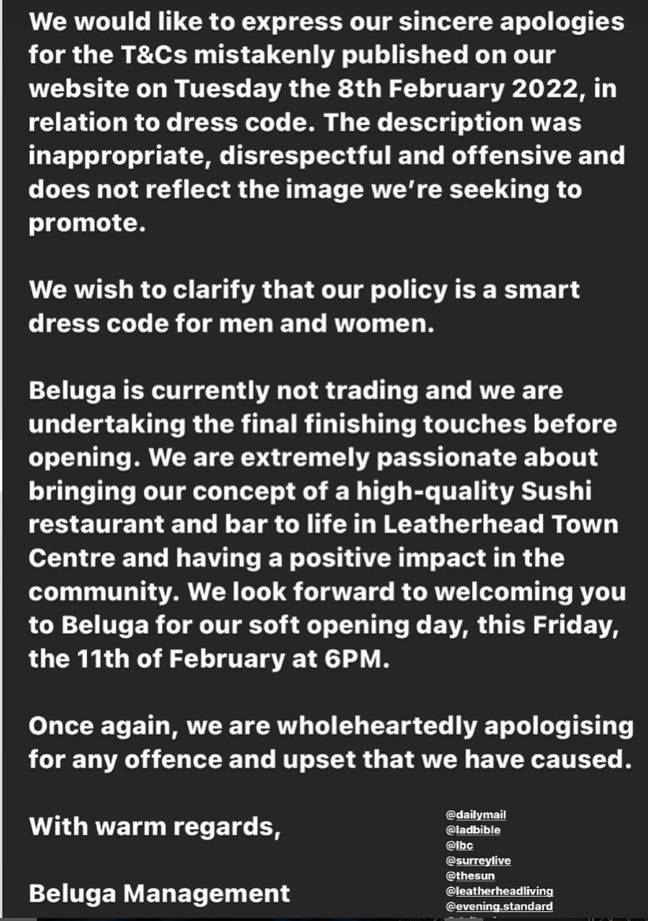 The Beluga Bar describes itself as "a modern & elegant place to enjoy an evening of fine dining, exciting cocktails with the best in-house DJs and music to upbeat your senses.
"Our award-winning chefs have designed an electric menu, which will take the city by storm, chefs masterminds our innovative menus, while our talented mixologists are driving forward Surrey's cocktail culture with exciting ingredients and creations."