Mum with rude tattoos forced to walk like crab at school so kids don't read them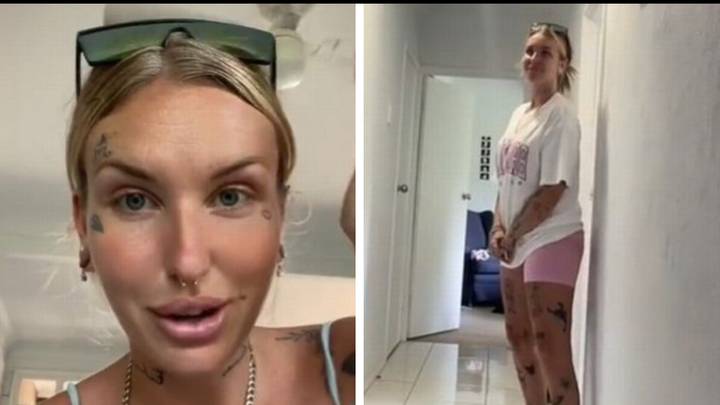 Featured Image Credit: TikTok/@madimurphy01
A mum with rude tattoos has admitted she has to walk like a crab at school so kids don't read them, having had two matching inkings that pair up to create a bold phrase.
In the clip, Madi pretends to be speaking to someone else before moving backwards towards the wall.
The mum then walks sideways like a crab so that the wall conceals what she has written on the back of her legs.
In the caption, Madi added: "I regret nothing."
Naturally, the short video raised more questions than it answered, with many other TikTokers asking what on earth she had tattooed on her.
In a follow-up post, she said: "I did not realise this was gonna go this crazy!
"I picked my daughter up from school and then got home and everyone was going crazy over what my tattoos were.
"But I'll show you what they say – I've actually got so many random ones."
Madi then placed the camera on the ground and stood up, spinning around to reveal two love hearts on the back of her legs.
One said 'B***h please', while the other one said 'You ain't s**t'.
"It says 'B***h please, you ain't s**t!'" Madi explained.
"And I just feel bad when there's kids reading my legs."
Many people found the tattoos hilarious, with one joking in the comments: "I feel like that's a good message for kids... humble them a little."
Someone else said: "On the candy hearts tho... I'm here for it," while a third wrote: "I love this."
A fourth added: "That ain't that bad lol I thought it was gonna be worse."
And another echoed: "PLEASEE I THOUGHT IT WOULD SAY SOMETHING WORSE, so cute."
One person also said Madi was going to be considered the 'cool mum' when her daughter is in high school, while others came forward with their own tattoo stories.
"Me with the burning church tattoo I have on the back of my leg," one TikTok user said, to which Madi replied: "I have 666 on the back of my arm lol."