Mum almost needed her legs amputated after waking up from girls' night out
Featured Image Credit: Kennedy News and Media
A mum-of-one has issued a warning to people going out drinking after she woke up almost needing her legs amputated.
We've all been there: stumble home from a night out, scoff the last of whatever takeaway you picked up on the way home and collapse into bed, without even bothering to take off your clothes.
It's definitely not a rarity, but Julia Anderson, from Canada, has urged people to be more careful about exactly how they fall asleep after she woke from a night out with friends unable to move.
Julia said: "I went on a night out with friends. I remember I was drinking vodka all night, I was drinking a lot of straight liquor.
"We didn't eat. Pre-drinks and bar drinks combined, it was the equivalent of 20 drinks, so quite a bit.
"I was drunker than normal. When I got home I just thought 'go to bed Julia'."
The mum-of-one fell asleep facing downwards and curled on top of her legs, and as a result she cut off her circulation for hours.
In the early hours of the morning, her concerned mum, Sandra, checked on her and said she needed to move, but Julia realised she needed help to do so.
Within a few hours, her legs had ballooned to double their usual size, leaving her worried that she'd broken them on her night out.
"They weren't sore, but they were double their usual size so I called out to my mom who called an ambulance," Julia recalled.
"When I got to the hospital my whole body was very swollen. I'm tiny, I'm only 100lbs, to them I just looked like a 140lb girl."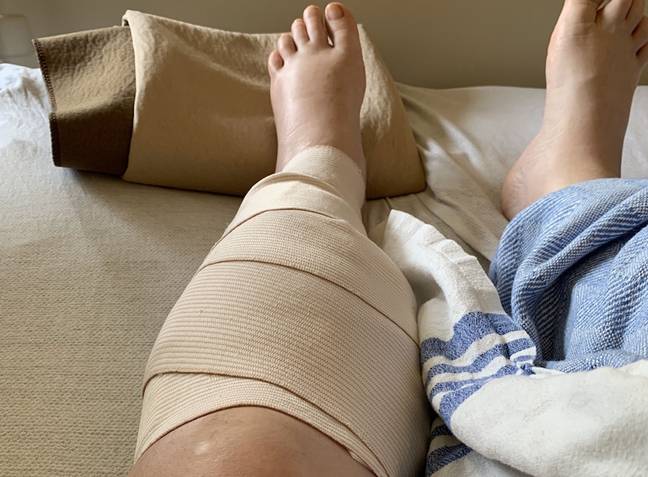 Julia underwent tests and x-rays before being diagnosed with compartment syndrome, a painful and potentially serious condition caused by bleeding or swelling within an enclosed bundle of muscles.
"Normally it's a sports injury, often people do lose their limbs," Julia said.
The condition had been caused by Julia lying on her legs all night and blocking the blood, so she was rushed to surgery, where doctors performed a gruelling, life-saving operation.
Julia's left leg was sliced open and muscle was cut off to relieve the swelling and reduce the toxins being released into her bloodstream, and she was forced to remain in hospital for five weeks while she underwent dialysis, had a blood transfusion and a skin graft op.
"I was in pain constantly," she said. "Imagine your leg is falling asleep but that tingling feeling is times a thousand, like a sharp shooting electric shock up my leg."
Three years on, Julia is still unable to walk properly and is unable to work.
She explained: "It's been years but it still feels like my foot is mildly asleep all the time, I'm used to it. I can't walk properly on that foot, I walk on my left foot like I'm wearing a high heel - almost like a Barbie foot.
"My toes are starting to curl under, I don't know if I'll need further surgery or if there's anything they can do at this point."
Julia was initially embarrassed about her story, but she decided to share it because 'it could happen to anyone'.
She shared a post on Facebook, writing: "I've never been open about this on social media, but if I can save someone's limb, or even life, it's worth sharing.
"NEVER pass out really drunk! 'Sleeping it off' is dangerous!! Have some food and water instead and try to sober up before bed!"
Hoping her message will stop other people going through the same ordeal she did, Julia added: "I would say to people that if you do have too much to drink, try and sober up before going to bed. Have some food and some water, don't just pass out because you won't wake up if the circulation gets cut off."