Parents slam 'disgraceful' Aldi customers for flogging £8.99 Cuthbert Caterpillar toys for £255 on eBay
Featured Image Credit: Kennedy
Parents have called out 'disgusting' customers for buying Aldi toys to resell them online for huge prices.
It was discovered that some people had been purchasing the popular £8.99 Cuthbert the Caterpillar toys - only to flog them online for as much as £250.
The hugely popular children's playmate has returned to Aldi stores for Christmas 2023 - with keen shoppers scavenging up and down the country for the coveted toy.
One Cuthbert toy was even resold for a staggering £255 - 28 times more than the original value of the toy - whilst the majority are going on eBay and Vinted for between £40-50.
And the extortionate resale prices has left some customers 'disgusted', having themselves searched several Aldi stores to get their hands on a wooden toy.
Ria Jones - a 39-year-old teacher and mother-of-two - visited her local store on the same day that the sought-after toy was released (Thursday 19 October) - only to come face-to-face with some empty shelves.
Feeling desperate, she then began scanning resell sites in the hope of getting her hands on a Cuthbert to give to her children this Christmas.
But Ria, from Bury St Edmunds, Suffolk, was left horrified by the sky-high prices, saying that she believes there's a 'special place in hell' for individuals making a profit on children's toys.
The mum hit out: "The frustrating thing for me is that these people queue up and buy these toys as if they want them then just go on to resell them.
"But some people have kids that actually want to play with them.
"It's infuriating, it's about human decency. My mum went to three different Aldis to try and find it but couldn't.
"It's just frustrating when you can't find them in any shops then see them being resold for triple and quadruple the price."
She continued: "It is very unfair. People have gone and bought the whole shelf just to sell them on which is frustrating.
"I wouldn't do it because I have a bit of dignity."
"That Aldi wooden range is amazing," Ria added. "I wish they would sell them all year round.
"They're all really good quality and the Cuthbert cake is just adorable and it's just sad people are being ripped off with resale prices.
"I don't know if Aldi could limit them to one customer or one per family but you don't know if someone has five kids and wants them for everyone.
"As much as I want it, I'm not willing to pay the prices they're being sold for on eBay."
She continued: "The people that do genuinely want this toy are losing out. I understand people are trying to make some money during a cost of living crisis but there are people who genuinely want to play with this toy and aren't being given the chance."
Abigail Matthews, from Bognor Regis, West Sussex was also left disappointed after searching her local store for a Cuthbert to gift her two-year-old niece.
The self-employed driver said: "Me and my sister were both looking online to see if we could find one but the cheapest we could find was £25 - and even that is extortionate.
"The most we were willing to pay was £13 - it's only £8.99 in the shop.
"It's absolutely ridiculous the lengths people will go to to try and make a bit of money especially when people are struggling."
She added: "There are some people who have bought the toys and resold them for retail price who have done it for people that can't get to an Aldi but others have just put them up for ridiculous prices to make some money.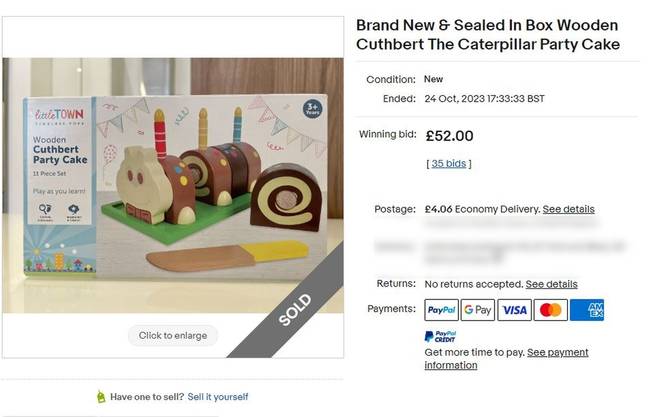 "I've seen prices for £65 - it's just absolutely ridiculous. Anyone willing to pay that amount is just stupid.
"Aldi should try and stop people from bulk buying.
"If they'd put the toy out online they would've made so much money easily without all this backlash."
Aldi has apologised to customers who were unable to purchase the wooden Cuthbert Party Cake, and explained that there was a limited availability and the supermarket could not control how the toys were used after purchase.
Tyla has contacted eBay and Vinted for comment.