Money saving mum shows how she makes 24 meals for less than £30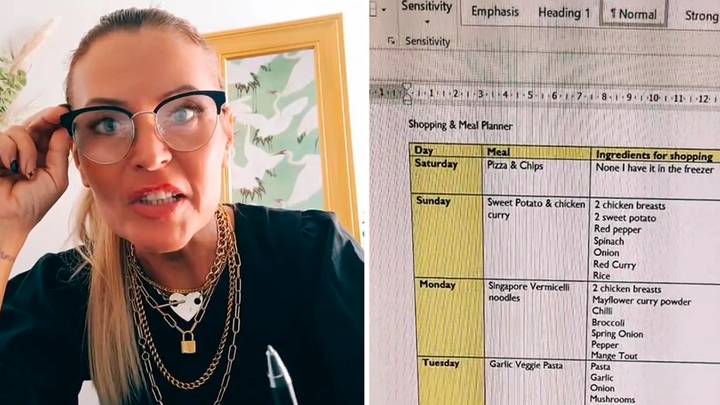 Featured Image Credit: TikTok/@duchessofthrift
Purse strings across the country are set to be laid thread-bare in the coming months as the cost of living crisis continues to bite.
But one thrifty mum-of-two has got the jump on her family's food costs, and best of all, she's shared her money-saving tips on TikTok.
Revealing that she's managed to make 24 meals for less than £30, TikToker Duchess of Thrift - aka 51-year-old Heidi Ondrak - posted her detailed meal plans on social media.
Watch Heidi's nifty video below:
Heidi explained: "So, this has become fun now, trying to get six meals in for less than £30. This week's [has] come in at £28.09 for six days meals for four people.
"So 24 meals is costing £4.68 a day or £1.17 a meal. Let me show you the plan."
The mum then went through her week's meal plan, explaining that she'd taken into consideration stuff she had left over in the freezer and also opted for meals that can be reused, such as chili con carne.
Heidi continued: "I've got a pizza in the freezer that I haven't used and some chips, that's easy.
"Sweet potato and chicken curry, Singapore vermicelli noodles, garlic veggie pasta - [I'm] sticking a veggie meal in there because it works out cheaper."
The TikToker went on: "Chili con carne - I'm gonna reuse the meat, make a big batch of it - burritos [and] sausage, mash and peas again because that's always a winner."
Running through her shopping list, Heidi told her followers: "Here's the shopping list: I've broken down those recipes into ingredients.
"[So] meat, veg, carbs and seasoning. I've added some cheese in there as well for the pasta."
Heidi added: "I've jotted down and done an inventory of the stuff I've got already in the freezer and [added] it all up to £28.09, which is making the best use of everything I've already got.
"Stuff in the cupboard, stuff in the fridge, stuff in the freezer, absolute bargain."
Offering her followers some parting advice, Heidi shared: "I can't recommend doing your planning before doing your shopping enough.
"It really, really works. You don't need to do it on a laptop, you can do it on paper."
She also recommended her followers save any templates they make, explaining: "I'm saving these because what I can do is repeat them in a four-week rotation. If the kids like something, I'll just repeat it, so I don't have to keep doing this.
"I'm preparing the shopping every week, which makes it dead quick when you go around Sainsbury's. You don't overspend if you go in with your list all ready."
All hail the Duchess of Thrift!