Boss hailed a hero after turning office into nursery so new mum could keep her job
Featured Image Credit: Newsflash
A boss has been hailed a hero after turning part of the office into a nursery so a new mum could keep her job.
Luis Ricardo Ruiz, who owns a digital printing business in Guasave, Mexico, did not want his employee Rosita to step away from the company after she had a baby.
After Rosita was said to struggle to arrange childcare, the forward-thinking boss converted part of his working space into a child-friendly area so that Rosita could continue to work.
While it is not clear how old the child was when Rosita needed to return to work, women have the right to just six weeks of paid maternity leave in Mexico following a birth.
Whilst new mums are also entitled to six weeks of paid maternity leave before their due date, which is paid for by Social Security rather than the employer, fathers are entitled to just five days of paid leave.
The businessman was said to take a shine to the infant, who Luis describes as 'always smiling' and has even given her a sweet nickname.
Luis took to Facebook to share his proud office renovation in light of the mother and baby, where he was met with a slew of positive comments from onlookers.
He wrote about the child: "In the last few days, she has come to visit us every day.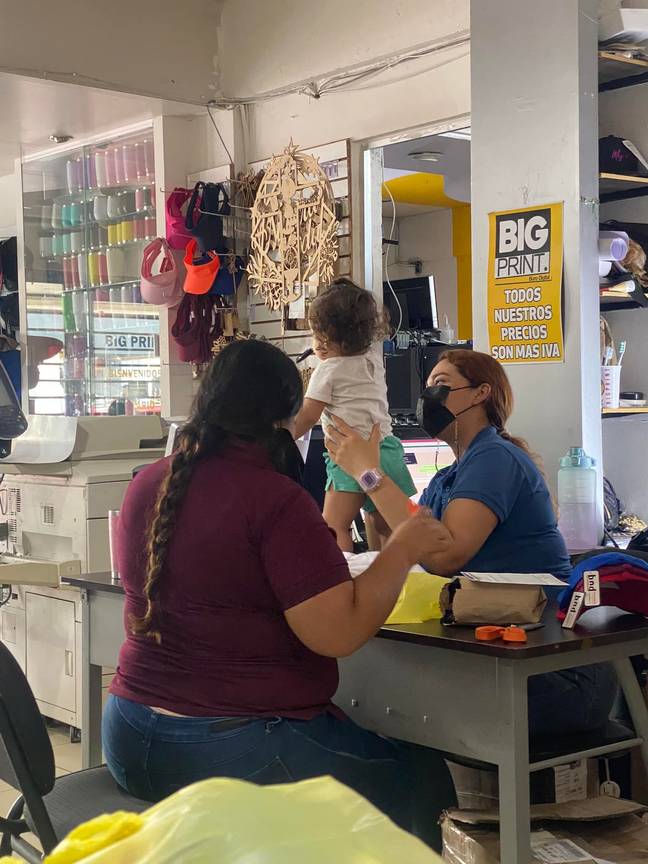 "[Finding] someone to care for her is complicated for Rosita, she wanted to give up for that reason, but I told her not to go."
Luis continued: "You know that it doesn't take months or years to get attached to children…
"Welcome to the BigPrint team, you make our days much happier."
In the adorable post, the child and Luis can be seen together as the business owner appears to take care of the child in a cot set up in his office while Rosita get on with her work duties.
The post has garnered a mass of positive attention, including 1,400 comments and 23,000 shares.
One person wrote beneath the post: "I really appreciate what you're doing for them," while another added: "I wish they were all like you, you deserve all the success."
The progressive employer then took the opportunity to urge other bosses to support their employees by adopting a similar approach to their workplaces and flexibility for parents.
He said: "Hopefully this serves to motivate other people to do the same and we support our collaborators a little more.
"We all work so that our children do not miss out on anything.
"And in the end, they miss out on us because we get stuck at work without being able to enjoy our time with them."