Horrified mum says breast implant 'burst out of her chest' after botched surgery in Turkey
Featured Image Credit: Kennedy
A mum has warned against cheap boob jobs after her botched breast augmentation saw her implant 'burst out of her chest'.
She explained that this was not her first time under the knife, having previously had her chest size increased to a double D in the UK 24 years ago.
However, when one of her old implants ruptured in 2018, she decided to have them completely replaced and get an uplift while she was at it.
But just days after her second boob job, the unthinkable happened, and she said she was left with the implant 'literally hanging out' of her chest.
Recounting how it burst out of her chest, she explained: "When I got back, my daughter went to change my dressing and said the stitches had come undone and it was weeping.
"My doctor said it was infected and put me on antibiotics. I was seeing the district nurses every day to keep an eye on it and dress it. It started oozing more and getting bigger.
"They had to pack wadding inside the hole daily to stop it getting bigger then they couldn't do anymore, it was too big and getting worse every day so I had to go to A&E.
"It was a great big hole. I wouldn't look at it, I didn't want to know."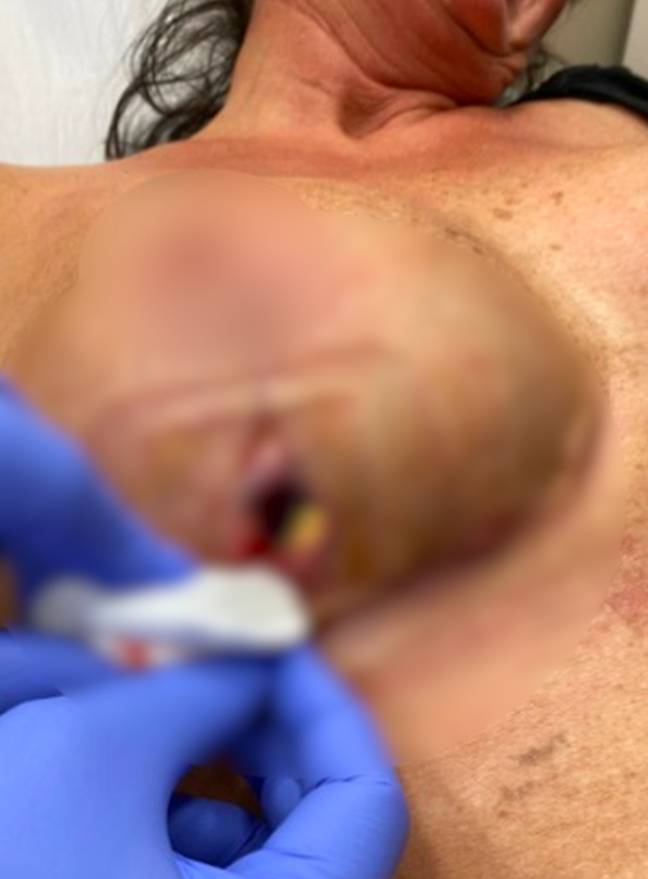 However, when the implant literally became visible again, Kelly had no option but to take drastic action and return to Turkey, despite being advised not to fly.
"I was sick of having holes in my boobs and having them dressed every day," she said.
"A UK breast surgeon said I was losing the second implant, there was a massive infection in there and I should have waited six months before having another implant in.
"Every day it was getting bigger so I went back to Turkey. They said there was nothing they could do, they'd take it out and I shouldn't have any more treatment, no uplift or anything.
"He said I had very little breast and some sagging skin and that was it. I went home because I was depressed out there."
Kelly ultimately opted to have her implants removed for the sake of her health but after two decades of having double D breasts, she said it's taken a huge negative toll on her mental health.
Kelly said: "I'm very unhappy with them, I feel like a 12-year-old again. I don't let my boyfriend see me, everyone knows me with my boobs.
"I'm on antidepressants, when I was out there I wanted to jump off a cliff.
"I've got three lots of scarring with a flat chest. I feel like a different person.
"I have to get them done, I wouldn't be able to wear a bikini - summer would be a nightmare."
While Kelly wasn't charged to have her botched implants removed, she said that she was still left massively out of pocket as a result of the ordeal, which, once hotels and flights were taken into consideration, cost £6,200.
Kelly said: "I'd been waiting years to have it done. I wanted to get it done so I decided I was going. I didn't want to be without implants.
"I didn't think there would be complications and I didn't think that if there was, seven weeks later they would just tell me I couldn't have any more surgery."
Kelly is now hoping that others can learn from her mistake and not opt for the cheapest option to save money.
She warned: "People need to do research, look at all the complications that can occur and make sure they don't pay in cash because if you pay by card you have more rights."