Restaurant owner defends 'cheeky' menu after it offended customers
Featured Image Credit: Kennedy News & Media
A restaurant owner has defended his 'cheeky' menu after a 'snarky' message offended customers and left social media users stunned.
Jane Breeds, 27, visited Danish steakhouse Köd London on Sunday 12 November with her boyfriend, ready to take advantage of the all-you-can-eat roast dinner deal.
However, they were shocked to clock a note at the top of the menu, which said diners 'can have tap water... but please remember we're running a restaurant, not a charity – wink, wink'.
The message added: "If you want to have just tap water, we encourage you to donate £1 to Red Cross. Everybody wins."
Civil servant Jane was so taken aback that she and her partner ended up not buying a drink to 'make a point', instead just ordering a jug of tap water.
She paid a 15 percent tip due to the 'great service', but didn't walk away feeling happy otherwise – later taking to X to hit out at the restaurant, which is located in north east London, claiming the donation request was a form of 'guilt tripping'.
Köd owner Morten Ortwed, 38, hit back at the criticism, attempting to explain the joke as an example of 'Danish humour', but Jane argued the 'snarky' message was putting people off buying drinks.
Jane, from Southend-on-Sea, Essex, said: "It's a bit cheeky to imply that I'm treating the restaurant as a charity when I'm spending £60.
"When I first saw the menu I laughed and told my boyfriend that we're not ordering any drinks.
"He asked why and I passed him the menu. He found it funny too and agreed to just stick to tap water.
"I was given a jug and I didn't request for it to be refilled but I'm sure they would have done so.
"[The donation] is a nice idea but I don't think I should be guilt-tripped into donating to charity just because I only wanted to drink tap water.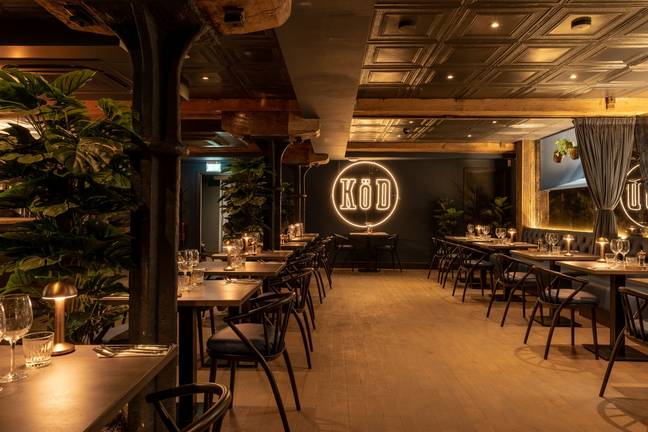 "I didn't make a donation but I did happily pay the 15 percent tip that is automatically added on though as the staff were great.
"They didn't say anything about us only drinking tap water and gave great service."
The London branch of Köd opened back in March, following more than a decade of success in Denmark and Norway.
Dad-of-two Morten, from Skanderborg in Denmark, stressed that his restaurant wasn't forcing customers to buy drinks or donate, saying: "It's a really good offer that people like but it's not possible to make an offer like this if everyone just has free tap water.
"This is a way in Danish humour to tell people to also buy something to drink so we can continue to have this great offer.
"We're not forcing people to buy drinks. They can have free tap water.
"I understand [they find it cheeky] but to come to a restaurant and have tap water I think it would be nice to also donate something. That shouldn't be a bad thing."
Morten, who 'proudly' serves as an ambassador for Red Cross, added: "It's the first time I saw something critical about it. I will of course think about it for the future but I don't think we should change something because one person doesn't agree.
"There are still some things we need to learn about Danish humour working in the UK."
In Jane's tweet, she described the note on the menu as 'wild behaviour', with another social media user commenting: "Are they really expecting to turn a profit by selling water? Just close down the restaurant at this point bro."
Another said: "I was ordering the malbec, but having read that. Tap water please?"
After the post started gaining traction online, Morten replied: "Thanks for [the] attention. You forget to say this is only for our Sunday special where we offer an all-you-can-eat roast for £30.
"We can't do that if everybody only do tap water. We try to add humour, not offence. Tap water is still free, Red Cross donation [is] optional!"
He went on: "We are a Danish restaurant and maybe it's too much Danish humour, maybe it's not.
"We'll see. So far, you are the first we have heard a negative comment from. But we will take it into consideration in our evaluation. Thank you for the feedback."