Woman, 23, with 13-year-old daughter says she's not taken seriously as a parent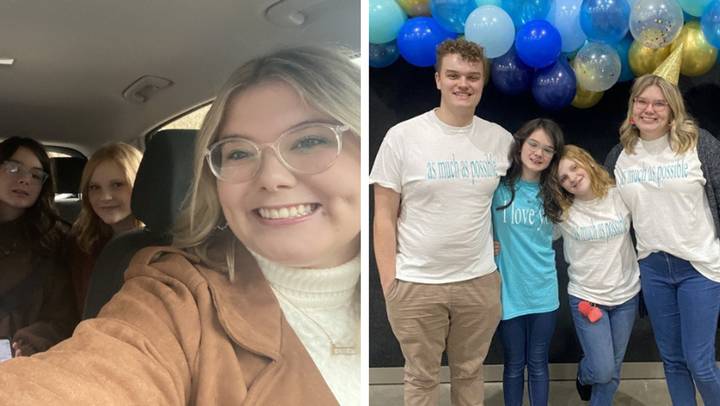 Featured Image Credit: SWNS
A 23-year-old mum who has a 13-year-old daughter has spoken about how she feels she 'isn't taken seriously as a parent'.
Tasia Taylor and her husband Drew, 25, are the adoptive parents to two teenagers - 15-year-old Tamiray and 13-year-old Rory - and they insist their unusual dynamic is 'the best thing they've ever done'.
The couple, who are both teachers from Arkansas, US, have always been passionate about working with families and helping people get back on their feet - which is what drew them to the idea of fostering.
In 2022, they started to work with the Department of Children and Family Services to open their home to fostering children as old as six - but in the middle of the process, they were asked to take on Rory.
Tasia explained: "She moved in with us on April 1st and we had less than 24-hours' notice before becoming parents.
"When Rory first moved in, we didn't know that we would be able to adopt her, or if she would even want to be adopted, but we knew that we would be a safe place for her."
By December of that year, Rory was officially adopted into the family and Tasia's cousin, Tamiray, soon joined the family - she is not officially adopted due to her already being related to Tasia.
"She was of age to agree to be adopted and she actually requested that we do so!" the mum said of the adoption process.
"We did not push this idea upon her, and she worked with a legal advocate, through the CASA program (Court Appointed Special Advocates) to decide if this was the best thing for her!
"She fit into our family so well and we loved having her in our home."
Despite the family being happier than ever with their situation, the parents have sadly faced tonnes of criticism and hate online after setting up a TikTok account to document their family life.
But thankfully, Tasia and Drew are able to maintain a positive outlook on their choice to adopt teenagers.
"We honestly look younger than we are, although we do not feel the odd age difference in our family dynamic," Tasia explained.
"People consistently have something to say about the matter and our requests as parents are not always taken seriously."
She added: "Additionally, even with our extensive training on trauma in adolescents, and our own experiences as educators, it can be difficult to navigate the girls' triggers and we are working hard every day to be the best support system we can be for them!
"'Becoming an empty nester at 28 sounds pretty good."