Amy Dowden breaks down in tears as family help shave her head following cancer diagnosis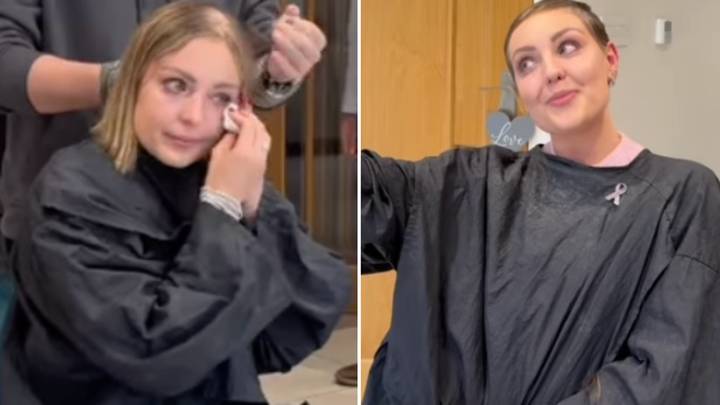 Featured Image Credit: Instagram/amy_dowden
Amy Dowden has shared an emotional video documenting the moment she shaved her head amid her cancer treatment.
The Strictly Come Dancing pro uploaded the clip alongside a caption in which she said she was 'taking control' but confessed shaving her head has been the 'hardest step so far'.
In the lengthy Instagram caption, she said: "I tried my best to save it. I know it's only hair but these past few months I've had what feels like so much taken away from me that has made me not feel like Amy. I'm missing every possible aspect of dancing. I just wanted to keep my identity with my hair and I tried telling myself it wouldn't go. But I would dread the pain of waking up to the shredding everyday."
Amy has had to withdraw from the 2023 series of the long-running BBC ballroom competition show amid her treatment.
"I've not been able to take control of this journey so far, but as you can see with some of my loved ones I took the courage and CONTROL."
The Welsh BBC star said it will take some time getting used to but she's focused on thinking about the hair she'll get back and all the dancing she'll do once she's better.
The 33-year-old wrote: "It's going to take some time to get use to and learn to love and embrace but, I'm now focussing-not on the hair I'm losing but the hair I'm going to get back and the happy dancing, tea lover who talks way to fast whilst rolling every rrrrr who is still there inside with or without hair!"
Amy said taking control of the decision to shave her hair has made her feel 'empowered and positive'.
"Since taking control, I feel I can now see the finish line. This for me was a hurdle I couldn't even bring myself to think or speak about. I've done it and I've also crossed the halfway chemo line! I'm feeling empowered and positive!
"To everyone on their own journey, whatever that maybe, I'm sending love, power, strength and courage."
She concluded: "I found my courage for this step and I'm proud."
She said she's been chronicling her treatment on social media to raise awareness of what cancer patients go through during chemotherapy.
If you've been affected by any of these issues and want to speak to someone in confidence, contact Macmillan's Cancer Support Line on 0808 808 00 00, 8am–8pm seven days a week