Christian Wilkins calls out 'inappropriate' comments after receiving backlash over 'nude' dress
Featured Image Credit: Brendon Thorne/Getty Images/Don Arnold/WireImage
Since the dawn of time, celebs all over have been gathering at award ceremonies as the perfect occasion to wear their most fabulous and dazzling outfits in their wardrobe.
And Aussie model and actor Christian Wilkins did exactly that when he wore an incredible 'nude' dress to the 2023 37th annual Australian Recording Industry Association (ARIA) music awards.
The 28-year-old, who is well-known by fans for his clothing style which challenges gender stereotypes and norms, has since come forward to issue a response calling out the 'inappropriate' comments after receiving backlash over his choice in outfit.
The look in question was a full-body mesh ensemble embellished with crystals complete with nude nail polish, simple crystal jewellery to match and a side part slicked back ponytail.
After pictures of Christian's outfits surfaced, many outraged social media users rushed to share their opinions on the matter - with many sadly hurtling homophobic comments towards the model-actor.
Since then, Christian has opened up a little more about the ordeal to Tyla.
He explained: "To be honest, the overwhelming majority of comments have been positive - both on the night and post the event.
"Admittedly irl the dress looked more like a golden shimmer as it was covered in Swarovski crystals that sparkled and I was unaware until after the event how naked it appeared in photos.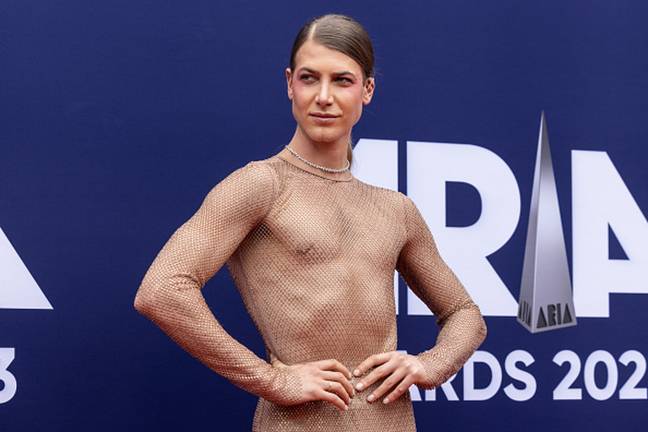 "Regardless some of the personal attacks are completely inappropriate and unfounded."
The star continued: "I would have thought the patriarchy was strong enough to handle some kid wearing a bit of sparkly net.
"I felt beautiful and I know for a fact that no one at the event, or from the ARIA team, felt any offence."
Christian went on to say: "I do however feel very sorry for young LGBTQI+ members who see the hatred and possibly feel like they need to hide themselves.
"With everything that is going on in the world right now we should be focusing on spreading love, not hatred.
"I truly hope that one day soon people will be free to live, be and dress however they want without outside judgment, and i'm thankful for the amazing support network I have that continue to encourage me to be who I am."
Christian is by no means the first celeb to don a 'naked' dress with a whole bunch of stars hopping on the trend including the likes of Rita Ora, Kim Kardashian and Dua Lipa.
While some people found issue with Christian's ARIA look, it's clear his beloved fans adored it.
One Instagram user commented under a post of his: "I love your self belief and your confidence to be you. Your parents have certainly blessed you."
"YOU ARE THE MOMENT," gushed a second while a third praised him as an 'icon'.
A third echoed: "Absolutely gorgeous.. Christian you sure are a beautiful fashion icon!"
"Absolutely divine, this was made for you!" added a final Instagram user.
If you've been affected by any of these issues and want to speak to someone in confidence, contact the LGBT Foundation on 0345 3 30 30 30, 10am–6pm Monday to Friday, or email [email protected]