Tyson and Paris Fury confirm they're expecting their seventh child
Featured Image Credit: Instagram/@parisfury1
Tyson Fury has announced that he is expecting his seventh child.
And after learning that his long-awaited fight with Oleksandr Usyk had been called off over contractual wranglings, the Gypsy King said it 'cheered him up' no end.
In a post to his Instagram Story, the 34-year-old revealed that he and Paris were growing their large family even further.
Sharing a photo of them together, Tyson said: "All is not lost! I get to date night with my beautiful pregnant wife @ParisFury1.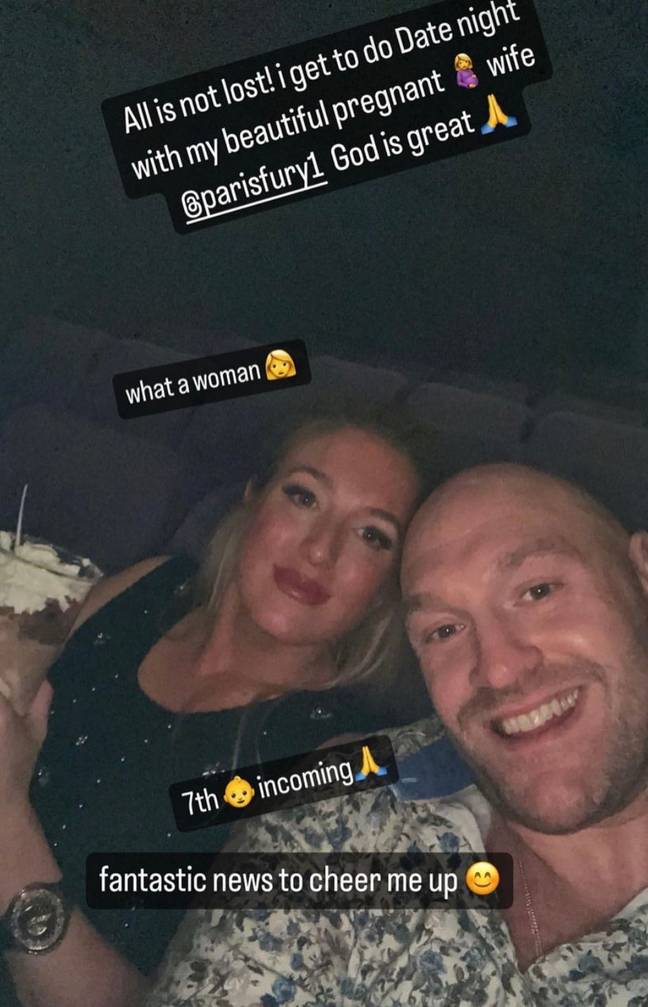 "God is great! Seventh baby incoming, fantastic news to cheer me up."
Paris also posted the same pic to her profile, writing: "Baby NO 7 on the way God willing."
Since the exciting news was announced, the couple's followers have piled into the comments to congratulate them.
One user said: "Congratulations. You truly are superwomen. I only have 3 and find it hard work, just the washing alone. I take my hat off to you x."
Another beamed: "Number 7 is biblically the number of completion. Congratulations and God bless your family. You are an inspirational woman!"
"I've just had my second and I'm officially done, don't know how you do it ! Congratulations x," put a third.
While another added: "WOW! Now that is different level! Nothing but love and respect!"
The new addition to the family will see them join Tyson's other children: Prince John, Venezuela, Prince Adonis, Prince Tyson II, Valencia, and Athena.
In 2021, the couple's youngest, Athena, arrived prematurely and had the fight of her life to survive.
Writing in his book Gloves Off, Tyson recalled the moment he and Paris thought they'd lost her.
He wrote: "'The baby's died', she [Paris] screamed. 'The baby's dead. She's dead. She's dead...'
"I sprinted to the ward as fast as I could, fearing the worst."
Running to the hospital, he tried his best to calm Paris down over the phone.
"My chest burned, my legs were in agony, and as I ran I tried my best to console Paris," the boxer explained.
"'It's going to be alright', I panted down the phone. 'Let the doctors do their job. Don't worry...'
"When I made it to her bedside, there seemed to be a hundred medics crowding around Athena.
"Apparently, she'd become completely unresponsive while Paris was holding her, then her heartbeat had faded away to nothing."
Tyson said her bravery pushed him to victory against his fight against rival Deontay Wilder.
"It was Athena's successful battle which inspired me to win mine," he added.