Selena Gomez follows Hailey Bieber after releasing statement defending her
Featured Image Credit: Instagram/@selenagomez/@haileybieber
Selena Gomez has followed Hailey Bieber on Twitter after calling out trolls for sending her death threats.
The Rare Beauty makeup founder previously called for 'kindness' and for fans to 'consider others' mental health' in a TikTok shared in March amid her alleged 'feud' with Hailey.
Amid the rumours of a reignited feud online, Selena become the first woman to surpass 400 million followers on Instagram.
Earlier today, the 30-year-old pop star released a statement to her 400 million followers calling for fans to be kind to Justin Bieber's wife.
Taking to her Instagram story on Friday (24 March) Selena wrote: "Hailey Bieber reached out to me and let me know that she has been receiving death threats and such hateful negativity. (...) I've always advocated for kindness and really want this all to stop."
Hailey has yet to respond to Selena's post at the time of writing.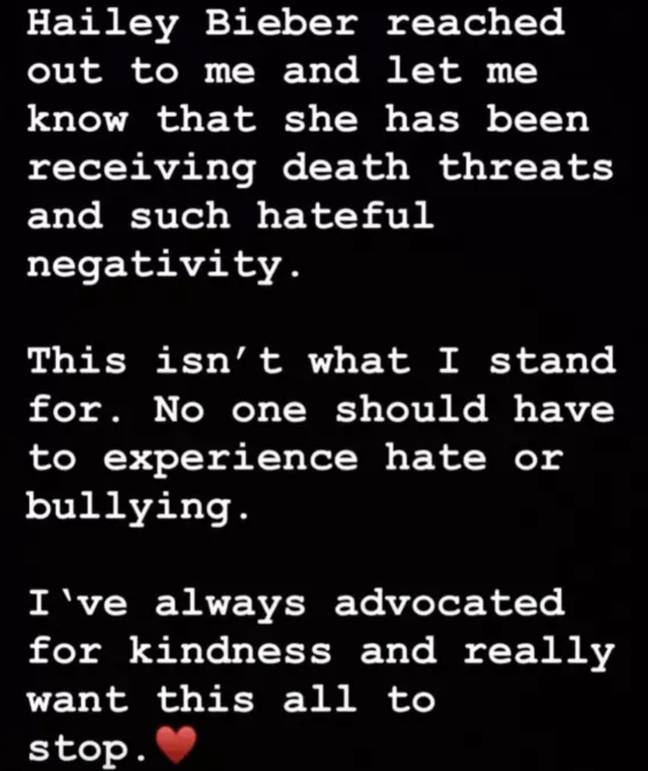 The 'Calm Down' singer has doubled-down on her support for Hailey by following her on the social media platform.
There has been long speculation about a feud between Selena and the 26-year-old model, with rumours reignited when Justin Bieber - who used to date Selena - and her friend Kylie Jenner uploaded an Instagram story, which was accused of mocking Selena's eyebrows.
The 'feud' rumours have become one of the biggest talking points of the year so far, as fans across all the social media platforms pick apart every post and comment shared by Selena, Hailey and Kylie.
In January Selena was body-shamed after photos of her in a bikini on New Year's Eve were shared online.
The Only Murders in the Building star responded to the cruel comments herself, saying: "I love my body."
Not long after, Hailey uploaded a TikTok video with friends Kendall Jenner and Justine Skye, miming along to a viral sound that goes: "And I'm not saying she deserved it, but God's timing is always right."
Some fans thought it was a dig at Selena because of the time the since-deleted video was posted.
Hailey denied all allegations, writing underneath a fan video: "I never comment on this type of thing but we were just having a girls night and did a random TikTok sound for fun, it's not directed at anyone."
Selena's follower count skyrocketed after allegedly being 'mocked' by Kylie while the Kylie Cosmetic founder's follower count on Instagram dropped by almost one million last month.
The reality TV star has hit back at the allegations that she mocked Selena, suggesting fans were 'reaching'.
She added: "No shade towards Selena ever and I didn't see her eyebrow posts! U guys are making something out of nothing. This is silly."
There were also rumours Hailey's husband, 29, got involved in the feud when guests at his birthday party this year were given a silver lighter featuring a cowboy hat bearing the words: "I am so grateful that I didn't end up with that what I thought I wanted."