Former Gogglebox star Scarlett Moffatt welcomes first child and shares his sweet name
Featured Image Credit: Instagram/@scarlettmoffatt
Former Gogglebox star Scarlett Moffatt has welcomed her first child with partner Scott Dobinson.
Born early, the pair's baby boy arrived at just 35 weeks and has a very sweet name.
Dobinson and Moffatt have been together since 2018, but the former friends - who have known each other for 15 years - didn't make their relationship public until 2019.
Despite a brief split in 2021, they appear to have gone from strength to strength, with Moffatt sharing her desire to have children with Dobinson 'one day' that same year.
She said: "One day maybe in a few years. However that may be. Ever since I was a kid I've wanted to adopt as I think every child deserves a loving home."
Fast forward to February 2023, when Moffatt announced they were expecting their first child, writing on Instagram: "It truly feels like a dream writing this caption.
"Me and Scott are on cloud nine and we are so happy that we get to share this moment with you all. You are so loved already little one."
Steph McGovern wrote: "YES! Congratulations. Honestly being a parent is amazing. So pleased for you both."
Today (29 June), the ex Gogglebox star shared a sweet post revealing her son has arrived early.
Thanking the NHS team at Durham Hospital, she shared his adorable name: Jude Xavier Dobinson.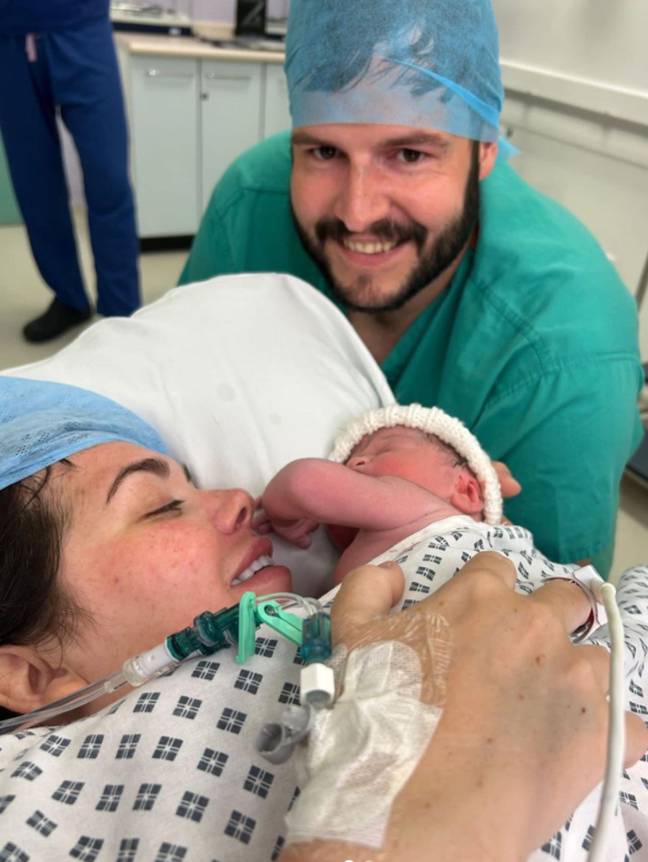 Moffatt wrote: "My darling boy I can't stop crying looking at you as I can't quite believe you're mine. You wanted to meet us early at just 35 weeks.
"Me & your daddy love you so much that I can't even put this feeling into words. Our heart and soul feels complete & ready to burst. I will forever and always be grateful to be your mammy.
"I Can't thank @scottdobby enough & to the midwife's Helen & Charlotte & all of the NHS team at Durham Hospital. You will all forever hold a special place in my heart for looking after us all with such compassion. Let the baby bubble commence."
Photos taken at the hospital show Moffatt holding little baby Jude on the hospital bed with the new dad smiling behind.
They've been flooded with comments on Instagram, with fellow mum Jess Wright saying: "Awwww congratulations darling girl that's amazing news."
And Vicky Pattison put: "Congratulations you two, unbelievable news."
Since announcing she was going to become a mum, Moffatt has been sharing various details of her pregnancy with her fans, saying the sensation of having her baby boy kick while filming was the 'most surreal feeling' she'll ever get, and that she feels 'lucky and grateful' to be 'loving pregnancy'.
While the couple have not announced an engagement, Moffatt has previously said that she hopes to marry her partner one day too.
She said she'd love for him to get down on one knee around Christmas so that it is like a 'Disney fairytale'.
Moffatt, who admitted she'd never pop the question herself, told the MailOnline: "I think it's always just in the back of my mind, the Disney Princess version of me thinks, 'Oh, it could be a fairytale,' but I don't think he's given into the peer pressure."