Ex-Great British Bake Off host Sandi Toksvig seriously ill in hospital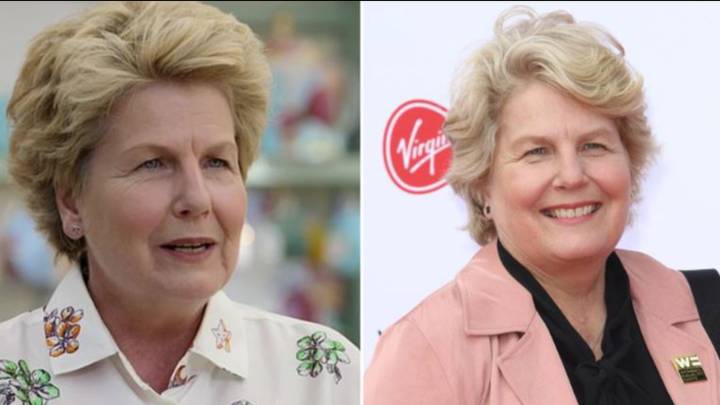 Featured Image Credit: Channel 4 / SOPA Images Limited / Alamy Stock Photo
Former Great British Bake Off star and QI host Sandi Toksvig has been rushed to hospital in Australia after falling ill.
The TV presenter has been away touring her comedy show Sandi Toksvig Live! across Australia, but had to cut things short before she started the New Zealand leg.
The comedian, 64, was due to play Christchurch on Sunday 4 December, before performing in Wellington and Auckland on Monday and Tuesday.
Confirming the news, a statement posted on Sandi's Twitter account read: "Due to illness, Sandi has cancelled the New Zealand leg of her tour.
She has been admitted to hospital with bronchial pneumonia while still in Australia and is unable to travel & perform.
"Our main priority is getting her home to the UK as soon as she is well enough."
Bronchial pneumonia can cause inflammation in the alveoli of the lungs, and can affecting breathing due to constricted airways and inflammation.
Other symptoms typically include fever, rapid heart rate, low blood oxygen levels, loss of appetite, and difficulty sleeping.
According to Healthline, people who are 65 and older have a higher risk of suffering complications from the condition.
So, after playing her shows in Canberra, Perth, Adelaide, Brisbane, Melbourne, and Sydney, Sandi's team are now focusing on getting her home safely to the UK, with plans to return to New Zealand when she's feeling more up to it.
Fans have been sending well-wishes in their hundreds after learning about Sandi's illness, with one tweeting: "Oh no. Hope she recovers soon. She's a national treasure."
"Get well soon Sandy - your country needs you and your wonderful wit and humour, and much else!" commented another.
Sandi's show has been described as 'an evening of comedy and curiosities, where Sandi shares 'little known facts and tells tall tales alongside some really silly jokes'.
New Zealand audiences will have to keep their ear to the ground for new tour dates for the show advertised as a 'soothing balm after recent years of lockdown gloom.'
Sandi co-presenter The Great British Bake Off from March 2017 to January 2020 alongside Noel Fielding before she decided to part ways with the feel-good Channel 4 show, with comedian Matt Lucas taking her place.
Since 2016, Sandi has been the host of comedy quiz show QI, taking over from Stephen Fry.
Sandi took over the show from the letter 'N', with the series currently embarking on 'T'.
We're hoping to see Sandi make a full recovery ASAP!