Married at First Sight's Martha Kalifatidis shocks fans after posting video of her breastfeeding fiancé
Featured Image Credit: Instagram/mbrunelli
Although everyone's talking about the latest season of Married at First Sight Australia, a couple from the 2019 edition of the show hit the headlines this week after sharing a rather unusual video.
Fans have been left shocked by the footage, which shows season six star Martha Kalifatidis as she breastfeeds her fiancé Michael Brunelli.
The couple are one of the few success stories of the reality show, having remained together since the final vows.
As Martha gets to grips with motherhood, she recently found herself struggling with a blocked milk duct.
Taking to Instagram yesterday (23 March), the 34-year-old couple shared a clip of Michael sucking on Martha's breast to try and fix the blockage.
As he sucks away, she jokes, "You've got to breathe through your nose. It's like giving a blowjob, you've really got to focus on the breathing more than any other part of it."
After coming up for air, he exclaims, "[Your] nipple's all the way down my f***ing oesophagus."
Text over the clip reads, "Blocked milk duct... it's a team effort," while the caption states, "So this was a new experience..."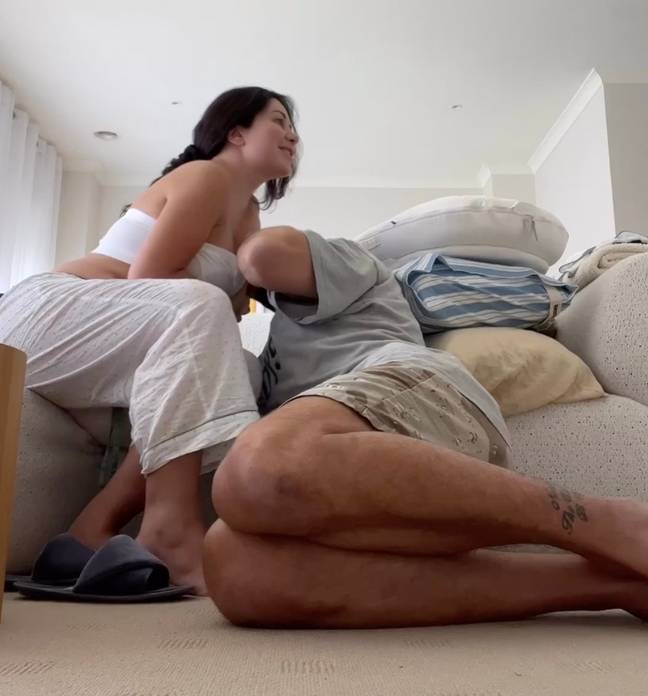 Fans reacted to the post with both horror and amusement, with one writing: "I think you've reached a new level of over sharing," alongside a laughing emoji.
"Some things you just don't need to share," said another, while a third added, "Yuk why would you post this."
A fourth wrote: "So wrong on many levels.. Certain things should be kept private there are porn and fetish sites for this type of thing."
But the comments from people who felt the couple were oversharing were far outweighed by those from users who thanked them for being honest and real about the first year of parenthood.
Many shared similar experiences while praising Michael for helping his partner out, including this person who said: "Michael you are a legend! The love you both have for each other is just so heart warming."
Another said: "The amount of times my partner has to do this! Thank you for making me feel normal."
"If anyone takes offence to this - you need to grow up," added a third. "This is the most real post I've seen on social media in a while.
"Just remember - breasts are apart of a woman's body simply to nurture our children, in the healthiest and most natural way possible. Yet unfortunately breast have been sexualised.
"So if you find this post weird, you're probably one of them who sexualises the women's anatomy, instead of seeing it as beneficial, nurturing, comforting and natural."