Fans are divided over Kourtney Kardashian and Travis Barker 'tonguing each other down' in the new Kardashians series.
The newly-married couple are well-known for their PDA, regularly sharing photos of themselves kissing and cuddling on social media, as well as cosying up to one another on the red carpet, too. And why the hell not? Check out one of their PDA moments in The Kardashians here:
But after The Kardashians recently premiered on Disney+ in the UK, fans are sharing their thoughts on the couple's hot and heavy antics - and the reaction to their public physical interactions is pretty split across the board.
Some fans have labelled the lovebirds 'so cute', admitting they envy their obvious chemistry.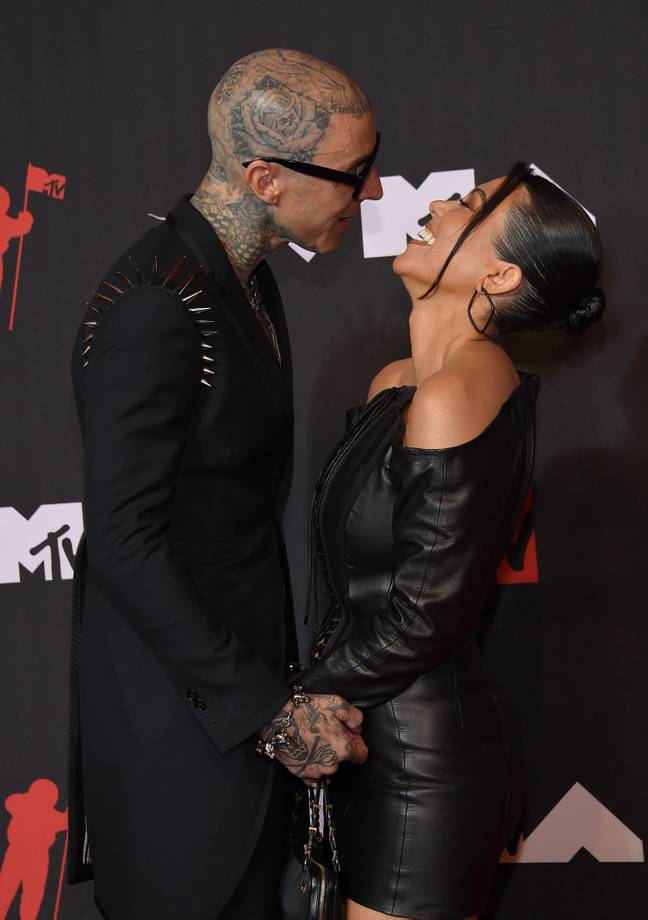 "LOL @ the family discussing SNL and then there's @kourtneykardash and Travis tonguing each other down!!! Lmfao #TheKardashians," one said on Twitter.
"@kourtneykardash and Travis look so damn cute! Listen, I want what they have okay?," a different viewer wrote.
"I'm fully on the Kourtney and Travis train now after #TheKardashians premiere," another added.
Someone else wrote: "I got sucked into watching the Kardashians and damn it, I have to admit Kourtney and Travis' relationship is really cute."
'I think @kourtneykardash and Travis have the most romantic, "how we met" story. This is cute okay!"
But it wouldn't be a Twitter reaction without those on the other side of the coin. And people have got seriously strong thoughts about their PDA.
"I'm sorry, but Kourtney and Travis are nauseating," one said.
"Kourtney and Travis' PDA really is on roids, and not just at award shows lol," said another.
A different viewer penned: "​​The Kourtney and Travis PDA NEEDS TO BE ZERO. How the hell are they acting like that around THEIR FAMILY?"
Kourtney and Travis announced their relationship in December 2020 before getting engaged in October last year.
More recently, the pair tied the knot in a whirlwind Vegas wedding last week. However, the ceremony was not a legally binding wedding.
The couple did not acquire a marriage licence prior to their spontaneous Elvis-style wedding, according to TMZ.