John Legend shares sweet meaning behind his newborn daughter's name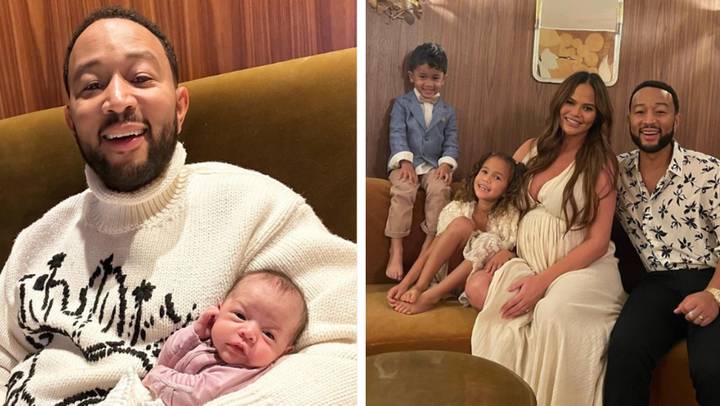 Featured Image Credit: Instagram/johnlegend
John Legend has shared the adorable meaning behind his newborn daughter's name.
The 'All of Me' singer and his wife, model and TV personality Chrissy Teigen, 37, welcomed their newborn daughter on 13 January.
The proud parents debuted the first photo of their new bundle of joy in joint Instagram posts on 19 January, almost a week after she was born.
Her big sister and brother – Luna Simone, six, and Miles Theodore, four – were also pictured holding her.
Chrissy and John captioned the post: "She's here! Esti Maxine Stephens - the house is bustling and our family could not be happier.
"Daddy sheds nightly tears of joy seeing Luna and Miles so full of love, and I am learning you still need diapers with a c section!? We are in bliss. Thank you for all the love and well wishes - we feel it all!"
John also shared a cute snap of him holding Esti, with the caption "Out new love."
The couple announced the name of their new arrival shortly after she came into the world. And fans have been waiting to hear the inspiration behind her name.
"It turns out, my great-grandmother was named Esther," the 44-year-old musician shared with E! News.
"I wasn't intentionally after someone, but once Chrissy told me that idea, I was like, 'Oh, my great-grandmother's name was Esther'."
John continued: "We wanted to already name her middle name Maxine after my grandmother, whose middle name was Maxine.
"So, it's a lot of my family in the name."
Esti arrived a little over two years after John and Chrissy suffered the devastating loss of their son Jack in September 2020. Chrissy shared her experience with pregnancy loss with the world on social media.
The couple used IVF to conceive Esti, with the author admitting she had been 'too nervous' to share the good news due to her pregnancy loss with Jack
"1 billion shots later (in the leg lately, as u can see!) we have another on the way.
"Every appointment I've said to myself, 'ok if it's healthy today I'll announce' but then I breathe a sigh of relief to hear a heartbeat and decide I'm just too nervous still.
"I don't think I'll ever walk out of an appointment with more excitement than nerves but so far, everything is perfect and beautiful and I'm feeling hopeful and amazing. Ok phew it's been very hard keeping this in for so long!"