Jared Leto steals show at Met Gala with outrageous cat outfit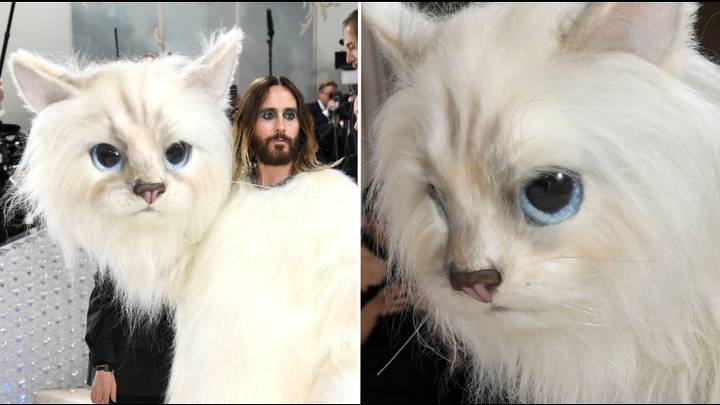 Featured Image Credit: Associated Press/Alamy
Jared Leto has stolen the show at this year's Met Gala after turning up in a truly outrageous cat outfit – a look many think is a nod to a particularly famous feline.
This year's event had a theme of Karl Lagerfeld: A Line of Beauty, inviting stars to pay tribute to the late fashion designer, who passed away in 2019.
The annual fundraising gala, held at the Metropolitan Museum of Art in New York, is famous for guests' red carpet arrival, where they're expected to go hard or go home.
And Leto didn't disappoint, having decided to channel this year's theme in a very, ahem, unique way.
The actor and singer dressed up as Lagerfeld's beloved pet cat, Choupette, a blue-cream tortie Birman cat who was adopted by the fashion icon back in 2011.
That meant clambering into a giant fluffy cat suit, leaving people guessing as to who was inside until he yanked off the head to reveal himself.
Handing the head over to one of his people, Leto then proceeded to get changed into outfit number two – a man after our own hearts.
Amazingly, however, he wasn't even the only celeb dressed as a cat at the event.
Doja Cat also channelled her inner Chapouette, donning a silver skintight gown from Oscar de la Renta, paired with facial prosthetics and cat eye make-up.
The outfit also featured a feathered train, backless design and a built-in head covering with cat ears.
Speaking to Vogue on the red carpet, the star said: "I feel relaxed here. Maybe it's the beige. I feel very calm, it's very nice."
In a conversation with Vogue, the Met Gala co-chair touched on why she opted to wear the 'very, very special' Chanel gown.
"It's been on all my mood boards," she said.
"It's a 1992 Fall bride dress from Chanel, by Karl - obviously.
"And yes, it's very, very special. The patrimony was very kind to lend it to me for tonight so yes, it's very, very special."
Elsewhere in the conversation, she also touched on the show-stopping jewellery she had decided to wear - referring to the diamond necklace as 'this little thing'.
According to Harpers Bazaar, the Tiffany & Co. piece she was wearing is the Lucida Star Necklace, reportedly worth more than a cool $10 million.
"I feel very lucky that I get to wear tonight," Lipa said.
"It's very special, it hasn't been seen before. So I feel very lucky that I get to showcase it tonight at the Met Gala."