RSPCA Warns About Leaving Your Dog In Specific Rooms Of The House During Heatwave
Featured Image Credit: Shutterstock
With high temperatures this week and next, the animal welfare charity RSPCA is asking pet owners to remember to keep their pets safe in the heat.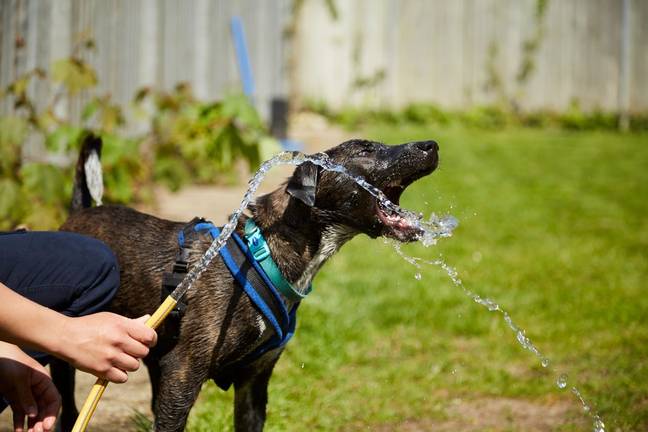 The RSPCA explains that the hot weather can endanger our pets, farm animals and wildlife. Every year, the animal welfare charity receives hundreds of reports of animals suffering from heat exposure.
This includes dogs left in hot cars, pets with heat burns on their paws, dehydrated wild animals, grazing animals with no shade and dogs that owners over-exercise in the heat.
The RSPCA have advice for pet owners during the summer months. They say to make sure to also check that buildings that house animals are adequately ventilated and regularly monitored.
You should also never leave pets alone in certain rooms in the house that can overheat, such as conservatories that warm up quicker due to the increased light. Similarly, don't leave them in vehicles, caravans or outbuildings in the warm weather as they can die from overheating in places such as cars.
Dogs and horses continue to need exercise all year round, but owners should avoid exercising them in excessively hot weather. Try to time your walks/rides in the morning or evening when the weather is cooler and if the pavement is too hot to touch with your hand, then it will be too hot for dog paws as well.
RSPCA spokesperson and pet welfare expert Lisa Hens says: "Freedom Day (19th July) is fast-approaching in England and we'll finally be released from lockdown restrictions so we can return to normal life. That means people will be out and about with their pets and, with the weather heating up, we want to make sure that everyone stays safe so we can all enjoy our freedom again."
Also, the charity says to avoid having your dog sunbathe with you if you plan on enjoying the outdoors in the sun. Long periods of time in the sun without sufficient shade can be a serious threat to our pets so consider leaving them inside for short periods of time.
In general, pet owners should always ensure your pets or livestock have access to fresh drinking water and shady areas and try to avoid transportation during hot weather.