Vet issues urgent warning to families who have artificial grass in their gardens
Featured Image Credit: Alamy Stock Photo/ KRNaturalPhoto / ADDICTIVE STOCK CREATIVES
Pet owners are being warned about the danger fake grass can pose to dogs in summer.
With temperatures in the UK having reached above 30°C for the first time this year on the weekend (Saturday, 10 June), owners and dogs alike will have been feeling the heat.
While we whinge and moan about not being able to sleep at night, we shouldn't forget our furry friends are battling the temperatures too and with their long coats, their health could be at risk.
A vet has since issued a warning to all pet owners who have artificial grass in their garden.
Dr Samantha Webster from Joii Pet Care explained some floor surfaces can pose the risk of burning your pet's paws and while you may initially think of surfaces such as pavement slabs or metal grates, artificial grass can get very hot to touch too.
She told the Sun: "Whilst it won't get as hot as tarmac or paving slabs, artificial grass can also pose a risk to your pet's paws in summer.
"It is really important to note that if you have artificial grass in your garden, this will heat up very quickly if under direct sunlight and so should be treated with the same caution as with pavement.
"If your outside space does not have any natural grass (which stays much cooler), you should ensure you create areas of shade or place down cool, damp towels for them to rest on and avoid leaving them unoccupied."
And fake grass can pose other risks to your pup too.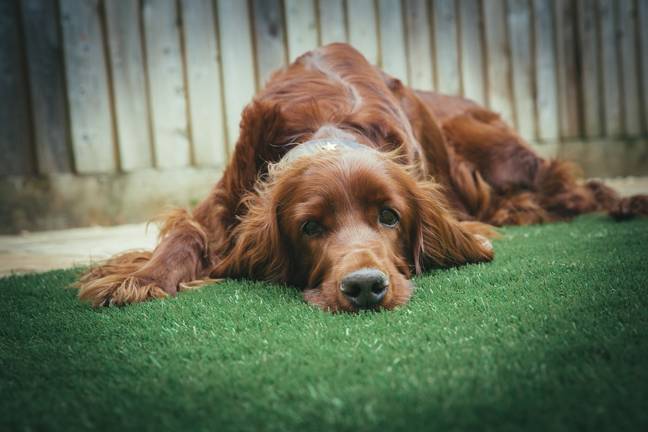 According to Lawn Pop, dogs - and particularly puppies who chew just about everything - have been known to take a fancy to eating fake grass.
If you're struggling with your dog trying to have a cheeky munch, Lawn Pop suggests the classic carrot and stick method - giving your pup a treat if they stop chewing when you reprimand them.
If this doesn't work, you may have to resort to popping your dog on the lead and walking them around your garden to really hammer home the message.
If your dog does end up heading outside in the sun to have a lie down not realising quite how hot it is, make sure to keep a close eye.
If they show signs of any vomiting, shaking, drooling, excessive panting or bright red gums, Dr Webster warns your pet may be suffering from heatstroke and needs to be taken out of the sun immediately.