Sex Education Fans Left Red-Faced By 'Wild' Opening Scene
Featured Image Credit: Netflix
However, viewers were shocked by the opening scene which they deemed "wild" as it showed the various members of Moordale High having vigorous and high-intensity sex with their partners.
As the series has debuted today, Twitter was abuzz with reactions.
One person wrote, "Nothing could've prepared me for the first two minutes of Sex Education season three."
Another said, "The opening of the season three of Sex Education sure was... wild?"
A third tweeted, "Heads up to anyone watching Sex Education season three not to watch the first scene with an audience," warning people not to watch it with a parent or someone who may be uncomfortable with the intense sex scenes.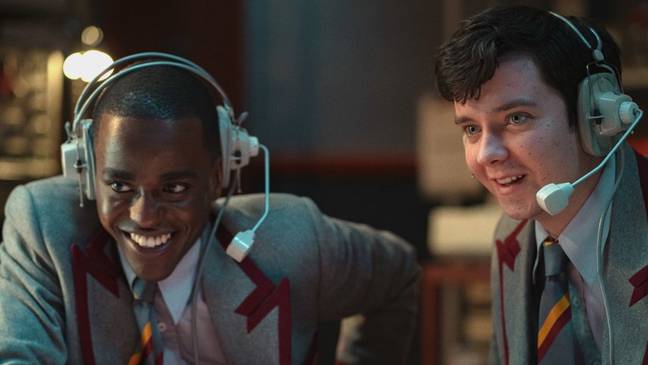 Although, it's unlikely many would be watching a show like Sex Education with their parents.
A fourth wrote, "Wow, the opening scene of the first episode of Sex Education season three," along with a reaction picture of actress Scarlett Johansson looking shocked.
Another fan said: "The opening to Sex Education 3... I need a minute. RIP to those watching with their mums."
Though many were left red-faced by the scene, a few were pleased to see it: "You could already tell that this season will be a banger with that opening," one person said.
Sex Education focuses on a group of teenagers at a British high school/college going through the turmoils of growing up and experiencing sexual desire, questioning their gender and sexual identity, and dealing with bigger life issues too.
The new season will see Jemima Kirke from Girls join the cast as the principal of the school, implementing an abstinence-only policy, school uniforms, and cracking down on the teenagers' individuality and sex-having tendencies.
The show has been praised for being open about sex, female desire, sexual assault, LGBTQ+ issues, and more.
Sex Education season three is now available to stream on Netflix.