You Can Now Stay In Carrie Bradshaw's Sex And The City Apartment IRL
Featured Image Credit: HBO
The Sex And The City reboot is just a month away from our screens, and we're completely buzzing for it.
And Just Like That follows the further adventures of Carrie, Miranda and Charlotte in New York as they navigate the trials and tribulations of being in their mid-fifties.
But if that's still too long to be reunited with your favourite girl gang, you now have the opportunity to stay in Carrie's iconic Upper East Side apartment.
That's right, you can sip Cosmopolitans, moodily type questions at your laptop and rifle through Carrie's legendary wardrobe, thanks to AirBnB.
Dating columnist and legend Carrie Bradshaw herself, Sarah Jessica Parker, will be on hand to welcome two guests each for two one-night stays at a recreation of Carrie's brownstone on Nov. 12 and 13 in New York City – at the bargain price of $23 (a paltry £16.96.)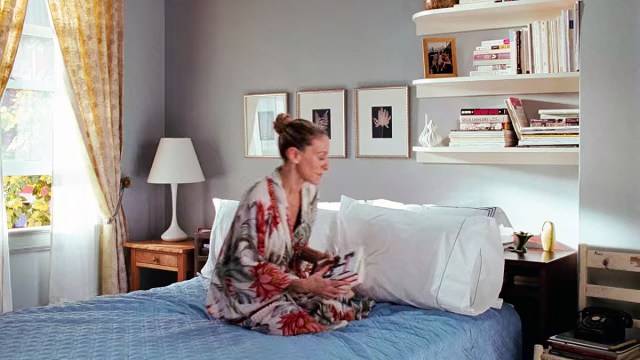 The rock-bottom prices and the superstar welcome wagon is to celebrate the fact it's been 23 years since Sex And The City has been on screen.
Speaking about the opportunity, Hollywood royalty Sarah Jessica Parker explained: "The Carrie Bradshaw character is near and dear to my heart, and revisiting her world for the continuation of the Sex and the City story has been such a joy.
"I'm excited for our audience to experience Carrie's New York like never before and walk in her shoes, quite literally, for the first time."
And the lucky guests really will be given the opportunity to teeter along in Carrie's Manolo Blahniks.
The stay at the flat includes: the opportunity to descend the steps of her brownstone and stroll the streets of Manhattan (splash from a city bus not included), a round of Cosmos on arrival for a toast with friends and the chance to admire and play dress-up in Carrie's iconic closet. And yes, before you ask, the iconic tutu, courtesy of Patricia Field, is available to try on.
Guests will also be treated to a styling session and photoshoot where they can channel their inner fashionista.
To celebrate Carrie's return to television screens, Airbnb will make a one-time donation to The Studio Museum in Harlem, a contemporary art museum championing the work of artists of African descent.
Fancy the chance to be in with finding your very own Mr Big? The apartment is available to book from Monday, 8th November. Follow the link here.
But there are some caveats – guests are responsible for organising their own travel to and from New York City, and the opportunity is only available to those currently living in America (sob sob).