Selling Sunset Fans Baffled By Christine's 'Lick And Go' Comment
Featured Image Credit: Netflix
We've been hooked on Selling Sunset since it returned to Netflix, with our favourite realtors causing havoc in Los Angeles.
As always, the drama has revolved around Christine Quinn, with a deep divide forming between the realtors at the Oppenheim Group.
But there was one scene in the series that left viewers completely baffled – and to warn you, it's a little bit grim.
In the eighth episode of the fourth season, we see Christine grab a drink with fellow realtors Maya Vander and Davina Potratz, with Christine telling the barista the intimate details of all of their lives.
Pointing to Maya, Christine says: "She's pregnant, I've just had a baby and we're all on our period right now. We're just having the time of our life."
The barista then recommends they have a "collagen protect" drink, as it's really good at hydrating bodies "from the inside" – particularly as it's fairly common for women to experience dryness after pregnancy.
Christine chips in: "I'm like SpongeBob SquarePants down there. Usually I just do the 'lick and go…'"
Naturally, Maya was baffled. In her confessional, she asked: "What is the lick and go? I've never heard of it. I read a lot of pregnancy books, but that wasn't in any of them."
And viewers were also in the dark about Christine's odd technique.
"Good morning can someone tell me what Christine was referring to when she said 'lick and go'?" one curious viewer asked on Twitter, as another asked: "Christine said she does the lick and go …what?"
Thankfully, there is an answer on Reddit.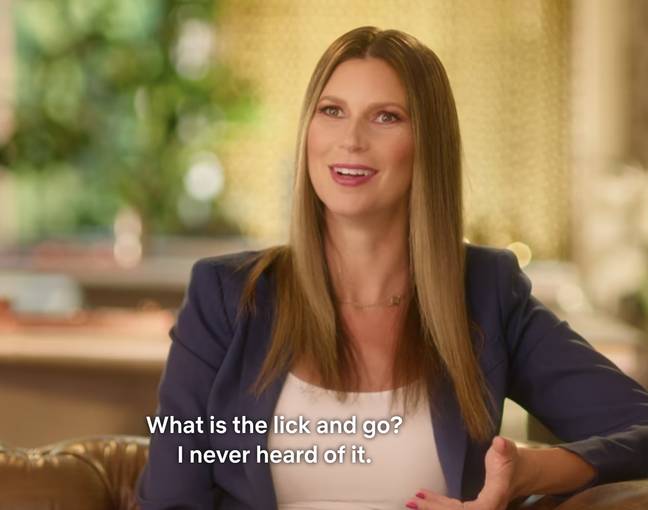 After one person said: "What the hell is the 'lick and go?'", they got quite a curt response.
"I think it's when you lick your fingers to use saliva as lube before going to town," they replied.
It's true: according to the NHS website, it's normal for the vagina to feel dryer after childbirth. This is linked to the lower levels of oestrogen in your body compared with when you were pregnant.
Christine welcomed her first son, Christian Georges Dumontet, earlier this year. Just 10 days after welcoming her baby by C-section, she decided to return to work – a decision that has left her a victim to vile internet trolls.
Selling Sunset is available to stream on Netflix.