New! magazine has apologised after facing a barrage of criticism for its most recent front cover.
The women's weekly, released every Tuesday, covered the Love Island finale, with a cover line titled 'The Real Winners'.
While winners Liam and Faye, as well as runners-up Chloe and Toby and Faye and Teddy, and departed couple Liberty and Jake all appeared on the front cover, fans of the ITV2 dating series were quick to notice Tyler and Kaz didn't feature - despite also being finalists.
Naturally, fans were quick to call out the magazine, taking to Twitter to ask why the couple had been omitted from the front cover.
"Hello New! Magazine, please guide us through your thinking in excluding Kaz and Tyler," one fan asked. "The omission of the only Black couple (who was in the final by the way) is quite a strong message to send."
"So this beautiful Black couple don't deserve to be your cover?" a second asked. "Kaz and Tyler don't need you anyway."
A third said: "Wasn't Kaz and Tyler one of the finalists?! I'm confused. Something isn't right here."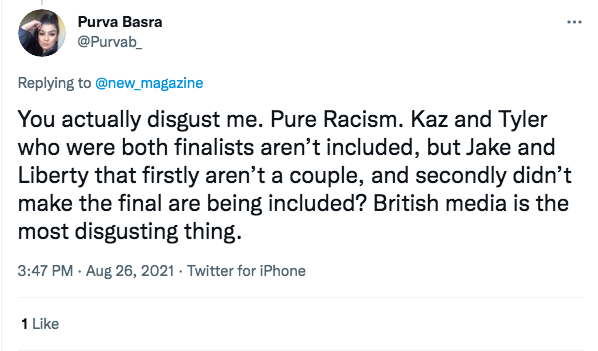 While a fourth person strongly wrote: "You actually disgust me. Pure racism. Kaz and Tyler were both finalists aren't included, but Jake and Liberty that firstly aren't a couple, and secondly didn't make the final are being included? British media is the most disgusting thing."
Following the accusations of racism and the heated backlash online, New! magazine has since used their socials to apologise.
"To all our readers, we are truly sorry," they wrote on Twitter. "Last week, we went to press with a Love Island cover featuring the four couples we thought most likely to be in the top four, based on bookmakers' odds and public votes.
"We were wrong, and worse than that, by leaving Kaz and Tyler out, we let you down. Thank you to everyone who has rightfully held us to account.
"We must be a home for fair and diverse representation and we will do better for you all."